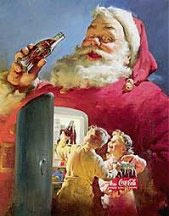 Well, I guess it was only a matter of time. Something had to be done.
You see, kids are fatter than ever. And they're only getting fatter.
Of course, we can't address the primary cause of the problem (parenting) because it is nearly impossible to question people's parenting skills — it's a touchy issue that can make the abortion debate look like a civilized afternoon tea. Since we can't make parents be better parents (which might include doing stuff like making sure their kids don't sit in front of a video game for hours on end every day, putting a stop to the purchase of piles of junk food, and electing for a more home cooked meals sitting around a table than fast food feasts consumed in the family SUV), we must look elsewhere.
First we can ban cupcakes from schools. Then we can give out stuff like acorns and toothpaste to kids on Halloween. And you know what else we should do?
Make Santa go on a diet!
That's what a British shopping center is out to do. Fiona Campbell-Reilly, spokeswoman at the Bluewater shopping centre thinks Santa is setting a bad example to the children who idolize him. She said, "Santa has been around for years, but society has changed and our Santa needs to reflect this."
*Sigh*
I wonder if we'll ever go back to the day when parents act like parents so kids could act like kids.
Watch out, Easter Bunny, you're next, what with your evil little basket filled with chocolate bunnies and jelly beans. Be afraid, Easter Bunny, be very afraid.
[tags]childhood obesity, Santa Claus, overweight Santa, bad parenting[/tags]