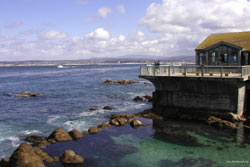 A friend named Patty told me and Kim about a game she's often played called "Two Truths and a Lie." Perhaps I'm the last person to hear about this fun little party game, but in case you too have been left in the dark, here's how it works: You get together with a group of people (it could be strangers, but it's also fun with people you know really well) and share three "facts" about yourself. Two of the facts are true and one is made up. The trick is to try and guess the fabrication. It's amazing how many odd and unusual things happen to regular people over the course of a lifetime and it can be quite fun to discover that Betty in accounting once went on a double date with Frank Sinatra.
Kim and I spent this past week in Monterey, California for a speaking gig and as we often try and do, tacked on an extra day for fun. It was a fairly short but adventurous trip and I thought it would be fun to offer up a few "facts" of my own. See if you can guess which one is the lie:
1) I spent almost $130 on candy at a super cool candy shop on Cannery Row.
2) An earthquake took place right in the middle of our presentation.
3) We saw the only great white shark currently in captivity in the whole world.
Feel free to make your guesses. I'll reveal the answers in an upcoming post.