I've been thinking about this year's Club K&J Christmas premium — a limited edition print — for quite some time now. I wanted to come up with a meaningful theme for the artwork, so I spent some time reflecting on the past year.
One of the highlights of this year for Kim and I was our first ever trip to the Grand Canyon. I remember standing in awe before it, marveling at the magnificent play of light and shadow. I even mentally tried painting it in my mind, as I began to notice the full range of colors lit on fire by the sunset.
Another highlight has been the move into our new office space. We are so happy with it, and it has been a symbol of a tremendous year of growth for our little company. I guess you could say that we're soaring to new heights.
That being said, I think I've come up with an appropriate idea for this year's print: Kim and Jason soaring above the Grand Canyon in Kim's cardboard airplane. My aim is to keep you posted on the progress, so here's the rough sketch. I'll be adding more snapshots as the project develops. Enjoy.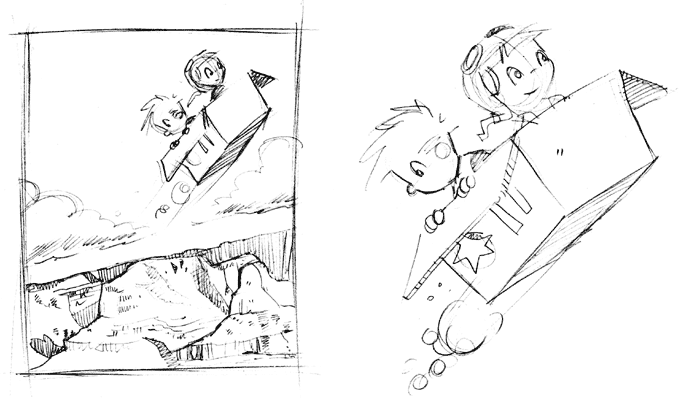 Each and every Club K&J Member will receive a signed and matted limited edition print (a $35 value — unavailable anywhere else!) as part of their annual subscription. We'll send out the prints right around Christmastime, so to make sure you get your print this year, sign up for Club K&J now!