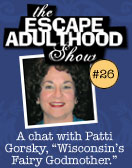 In this episode, brought to you from studio 315 in Madison, Wisconsin, we interview Patti Gorsky, the president of The Make-A-Wish Foundation® of Wisconsin, about how she got involved granting wishes to kids with life threatening medical conditions. We also talk about our 12 Days of Wishmas, the origins of Rudolph the Red Nosed Reindeer, and how to let Adultitis ruin your holidays.
Just click "Play" to listen to the show…
Show Notes…
• Learn more about The Make-A-Wish Foundation and how you can help make wishes come true for kids with life threatening medical conditions at www.wish.org.
• News: 8 Ways to Let Adultitis Ruin Your Holidays (K&J Blog)
• If you're anywhere near Madison, Wisconsin (or have lots of frequent flier miles burning a hole in your pocket) don't miss out on our 12 Days of Wishmas!
Win Stuff: You can win a $20 gift certificate to the Lemonade Stand by letting us know, "If you could have any wish of yours granted, that would it be?" Leave a comment!
Show Music: Coyote Sleeps by Ethan Elkind
Show Length: 55 minutes, 6 seconds
Shout Outs: Thanks to Patti Gorsky!