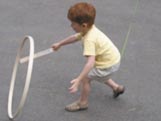 My friend Matt pointed me to a story from reveries.com that matches up with his personal "Hoop and a Stick" theory of raising kids which states that all kids need is a hoop and stick — and certainly nothing that requires batteries — for a good healthy upbringing. Here's a snippet from the article:
It also turns out that the best way to encourage kids to exercise is simply to "give them a ball, jump-rope or hula hoop" — along with more in the way of "active play time." That's according to a report due out in next month's American Journal of Preventive Medicine.
This gets me thinking about Christmas, and how common it is to see a young child sitting amidst an avalanche of recently unwrapped trendy toys and whiz-bang gadgets while playing with the boxes they came in. It's easy for us grown-ups to get so caught up in the craze for the latest and greatest that we don't even know we're in it. And whether it's providing them with state of the art playground equipment at school or buying them Billy the Battery Operated Wonder Robot, we end up unconsciously dragging our kids into fray with us.
How fortunate are we that we have little guides that can remind us every once in a while that life is not about the "stuff." It's about using our brain (an underrated gift in its own right) and being creatively engaged in our world.
Long live hoops and sticks and cardboard boxes!
[tags]childhood obesity, exercise, active play time, Christmas presents[/tags]