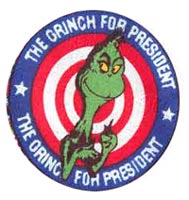 Is it just me, or is the election season getting longer and longer here in America? (I think I already saw a yard sign for someone running for President in 2012.)
One thing that disgusts me is how each election season, every candidate makes a case of how terrible things are in this country. Everything is in the toilet: our economy, our schools, our foreign policy, our health care system, you name it. Add it all up, and we apparently live in the worst country on the face of the earth. (Kind of makes you wonder why we have such a problem with illegal immigration — it seems to me that people should be fleeing the country in record numbers…) Fortunately for us (cue sarcasm), we have seven more months to decide which of the three remaining selfless civil servants will, as our next President, swoop in and fix every last bit of it!
It's times like these that make me thankful for my friend Stefan. Stefan is a speaker Kim and I met a few months ago who is a recent immigrant from Germany. He goes around giving speeches about why America is so great.
Yep, I said that right — great.
It's easy for those who have lived here their whole lives to take America for granted. As someone who grew up in a dictatorship, Stefan has the fresh perspective to remind us of the things that make America great. It's not just rhetoric, it's reality — as seen through the new eyes of someone who knows how much worse it could be.
Do yourself a favor and take a few moments to watch Stefan in action. You'll appreciate his childlike enthusiasm, fresh perspective, and wonder why we can't have guys (and gals) like that run for President one of these days…
http://www.youtube.com/watch?v=Sei3GEwD-a8