Every season brings its own natural stressors. Spring is no different. The busyness of spring sports, spring cleaning, and don't forget about taxes. The weather gets nicer by the day, and yet the to-do list leaves little room for enjoying it.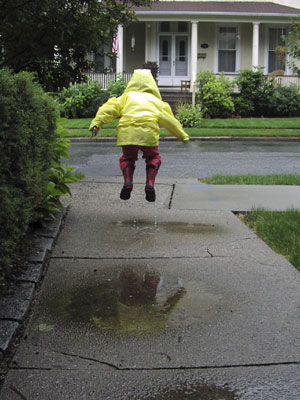 David Schkade, PhD, a psychologist and professor of management at the University of California San Diego shared in a recent article for "O" The Oprah Magazine that "if you transfer even an hour of your day from an activity you hate (commuting, scrubbing the bathroom) to one you like (reading, spending time with friends), you should see a significant improvement in your overall happiness. Taking action is key."
Childhood was rarely stressful, especially when you were four and five-years-old. This is probably because we were spending far more than an hour doing things we like to do. Take a page out of those simpler days to de-stress and increase your happiness. Leave the tax papers in their pile momentarily. Put down the dustbuster. A childlike moment or two will leave you thinking clearer, breathing deeper, and finding the good in seemingly not-so-good situations.
Here are some ideas to get you started… 27 ways to stomp out spring stress.
1. Jump in a puddle.
2. Pick some flowers and make them the centerpiece of your kitchen table. (Remember, dandelions count as flowers in childhood.)
3. Go for a walk and enjoy the chirping birds.
4. Send a "just because" card to a friend.
5. Try a brand new recipe for dinner.
6. Open the windows and put on your favorite music.
7. Blow bubbles.
8. Fly a kite.
9. Make a shamrock shake.
10. Light a candle, breath deep, and vision yourself accomplishing your biggest dreams.
11. Look through old pictures. (Appreciate your current hairstyle.)
12. Paint your toenails and go barefoot.
13. Play Twister.
14. Instigate a water fight during the dishes.
15. Make your favorite comfort food.
16. Plant something.
17. Read your favorite children's book.
18. Arm wrestle someone.
19. Jump rope.
20. Draw a picture on your sidewalk with chalk.
21. Make cookies for someone.
22. Blow up balloons and hang them all over your house.
23. Play catch.
24. Download your new favorite song from iTunes.
25. Go on a picnic.
26. Make a countdown calendar for something you're looking forward to.
27. Take a nap with the window open.
Share with us what you'll spend your hour doing today?