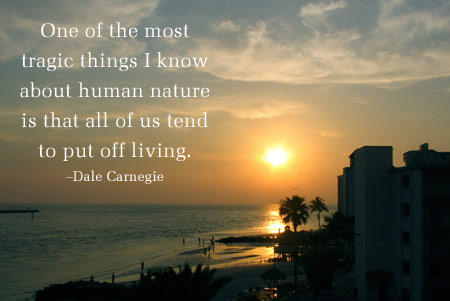 Kim and I just returned from a speaking engagement in Florida. This was the view from our hotel room on Clearwater Beach. When we checked in, our original reservation was listed as "garden view," but we were offered the option of upgrading to an "ocean view" room. As appealing as "garden view" sounds, I can assure you that it is usually hotel speak for "ugly air conditioning units view." Because we stay at this particular chain of hotels often, the cost of upgrading for both nights of our stay was $40.
Now, many people would stay with the "garden view" room, pocket the $40, and rationalize that at least they were near the ocean. A few years ago, that would have been my thought process too. But that all changed when I read a semi-controversial book by Randy Gage, "Why You're Dumb, Sick, and Broke." I also had the chance to hear him speak last year in San Diego at the National Speakers Association Convention.
One of his key stories was about a trip he and his mastermind group took to Tahiti. For lodging, they rented a glass-bottomed bungalow, which was stationed directly over the water and offered spectacular views of the brilliantly-colored fish swimming below. He noticed that there were plenty of similar bungalows left unrented, while all of the beach bungalows (with no glass bottoms and no spectacular views) were booked solid. As you might expect, the bungalows on the beach were a couple hundred dollars less.
Randy was perplexed. He noted that it's not cheap to go to Tahiti, and you don't usually go there often. After investing all that time and money and effort, why in the world would you chump out on the best view for a few hundred dollars? He chalked it up to a disabling mentality of lack thinking.
That story and the point he made really stuck with me. I try to keep it in mind often. This mindset is what inspired Kim and I to try parasailing last December. It was on our life list as something we eventually wanted to do, but it was pretty pricey. We did it anyway. After all, who knows what life will bring? Maybe that would have been our only shot. At the time, it was tough to drop that kind of money — money we didn't have. But I can tell you this: the view we enjoyed floating above the Gulf of Mexico was priceless, and seeing dolphins swimming below us is a memory I'll never forget. And you know what? We've never missed the money.
So, when offered the chance to get the "ocean view" room, we went with the upgrade. And we milked it for all it was worth. We enjoyed watching the sun melt into the Gulf of Mexico from the comfort of our bed. We fell asleep and awoke to the soft sounds of the ocean surf. And I wrote most of this post from the balcony overlooking the white sandy beach.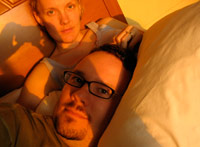 Don't get me wrong; too many people are buried under a mountain of credit card debt primarily because they have no self control and recklessly buy whatever their little heart desires. I'm NOT advocating that. Kim and I operate on a fairly strict personal budget. I think we're a dying breed. If there are any of you out there who are more likely to put the dollar you find on the sidewalk in a piggy bank rather than a vending machine, my message is simple:
Live a little.
Those little splurges make life way more fun. And the view is simply breathtaking.