Jason and I got the chance to sneak away recently for a weekend of warmth to Ft. Myers, FL. There's nothing better than putting lotion on your sunburned cheeks while watching The Weather Channel report that your zip code is getting pounded with inches of white stuff.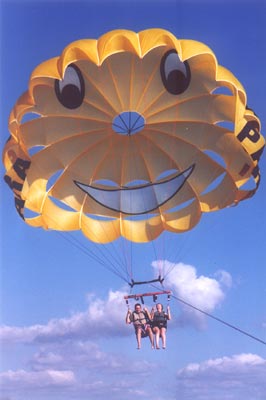 With all the talk about life lists this past year, I was motivated to check another thing off the list before the end of '07, so when the opportunity arose for us to go parasailing, I jumped on it. Jason recalled that he had it on his life list to not only parasail, but to parasail in the Gulf of Mexico. So, it was meant to be! Before we knew it we were on a boat stepping into harnesses with cheezy grins on our faces.
Anyone who has had this thrilling experience will attest that it is actually quite peaceful, which is not what I was expecting. Not that I thought it'd be like water skiing, but I did think it would be a little more frightening on my own scale of scary. It was not. I'm guessing it is similar to a hot air balloon ride. (We'll have to ask Kimberly Sellers, since she won one this past year.)
For those 15 minutes the clock stopped, the rotation of the earth came to a screeching halt, and all possible traces of anxiety and stress were left on the ground, with my sandals and sunscreen. The coolest thing is that about three minutes into it, after Jason pointed out the three dolphins below us (so cool!), I became very self-aware, knowing that I needed to "capture" this feeling of clarity to come back to later when inevitably life would not be this stress-free. So, I breathed deep and made a conscious effort to absorb and appreciate the magnificent beauty all around me, the perfect breeze through my toes, the salty smell of the ocean, the sounds of the seagulls and distant music from the shore, and my smiling husband right next to me… does life get any better?
That "capture" has served me well these last few weeks following our trip. I returned to that capture when I helped push our car out of the frozen snow and ice it was stuck in at the airport when we arrived back home. I returned to that capture a handful of nights in bed, as I instinctively resorted to worry thinking of the to-do list for the next day, knowing there just weren't going to be enough hours to get it all done. I returned to that capture in line at Wal-Mart, after I realized I had picked the wrong line, once again. I returned to that capture as I called to cancel our credit card which had been stolen. And I returned to that capture when I finished giving our mechanic $900, just six days before Christmas.
No doubt, the busyness that comes with this time of year creates more stress and strain in your already crazy lives. Create a moment for yourself to capture, to be able to go back to when Adultitis takes over. Whether it's lying under the Christmas tree with your kids, or taking a peaceful drive to appreciate the holiday lights, those moments of clarity will serve you well!
[tags]parasailing, Adultitis, Ft. Myers, FL, clarity, stress-free, life lists[/tags]