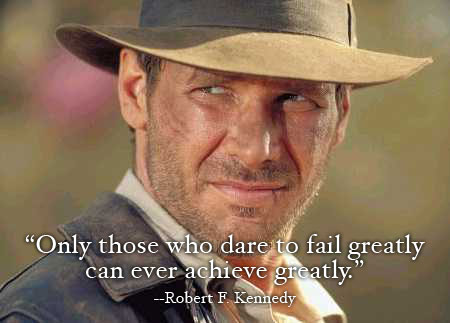 One of my blog posts recently received a very intriguing comment. It was loaded with interesting observations and great questions and I wanted to address them here.
As much as I love reading your website, and others like yours, I have realized that reading about it, and actually doing something about it is 2 different matter. Believe me, I've been a long-term reader of sites such as yours and am always comforted by the fact that there are people out there like you. I also talk about your sites, and my thoughts with my friends.

But lately, my friends have come to the conclusion that, yes, many people out there ditch their jobs to chase their dreams (or something less dramatic), but there are also just as many out there who go to work like we all do, live a 9-6 life and enjoy the weekends.

They've actually concluded that I'm torturing myself here because I read all these encouraging articles, dream all my dreams, but still am miserably stuck.

Don't get me wrong. I love this article. And your site is very inspiring. But HOW do you actually get people out there to ACT and DO it? How are we to ditch our salaries, health benefits, career prospects, etc, and go, say pursue our dream of volunteering in a third-world country?

I know it's illogical, and I know all the arguments against staying at a job just for the money, perks, whatever. But still we are not taking action.

If we are, there will no longer be visitors to your site!

So how and where do people finally say and go, right, enough of reading….I'm gonna do it!? How do you get to that point?
First of all, it's never a bad thing to read or listen to things that inspire you to make positive changes in your life. Encountering the stories of people — people just like us — can help us to see that impossible things are actually more possible than we realized. And they can help us build up the courage we need to launch off on our own epic journey. However, a good many people go out of their way to avoid — and even criticize — these sorts of stories. After all, it can be quite unsettling to have your own self-limiting beliefs challenged, forcing you to face the possibility that you've settled for less than your best.
One of the things I was fortunate to learn pretty early on in my career as a professional speaker and writer was that I can't get anyone to DO anything. Not one person. Not one thing. It's easy to forget that sometimes — because I really wish I could — but remembering that truth has saved me a lot of frustration. Conversely, if someone is waiting for some speaker or some book or some fairy godmother to wink twice, twitch her nose, and magically transform their life for them, well, that person will be waiting for a very long time indeed.
What I can do is try and live by example and use emotion and intellect to communicate a message that serves as a catalyst for someone to make a positive change in their life. Believe me, that's the ultimate. But when it all comes down to it, nothing I do or say can make them do anything.
All that being said, one thing that seems to be very effective in getting people to take action is bad news from their doctor.
As enticing as a dream may be, the good ones always involve some sort of uncomfortability and a certain level of risk. Two things most human beings aren't too fond of. Change and risk are scary things, and most people choose to stay in their current situation (which although admittedly not ideal, is at least a known quantity) than set off into the unknown. Bad news from a doctor, or a near death experience, or a sudden death of a loved one does a pretty good job of helping people realize that the things they worry about are not really worth worrying about after all.
I also think people get so caught up in the big picture that they forget that a journey of a thousand miles begins with one step. It's a cliché, but it's true. It's understandably overwhelming to consider the concept of quitting your job, abandoning a career, taking a pay cut, giving up benefits, and moving to a third-world country (or whatever the dream requires.) But in most cases, dreams are accomplished in baby steps. Books are filled with examples of people who began chasing their dream while they were still in school, still had a family to support, still had kids at home, or were still working at a job they didn't care much for but at least paid the bills.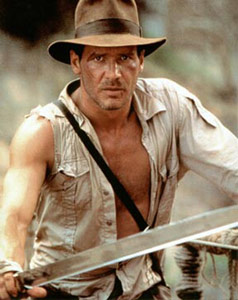 Indiana Jones is a hero because he takes action when most of the people around him are too afraid (or cynical.) That's not to say he isn't afraid (snakes, anyone?), just that he moves forward in spite of the fear. He doesn't always plan everything out to the last detail (that can become just another form of inaction) because he knows that unexpected things are going to come up anyway. We, too, can expect the unexpected on our journey. Just like Indiana, our quest for the holy grail — our "dream," if you will — is wrought with peril, lonely paths, and bad guys. Undoubtedly, it's an adventure of a lifetime and the journey is totally worth it.
But nobody can do it for us.
If you're feeling stuck, maybe you just need a little bit more courage to take that first action step. A baby step. You're closer than you think.