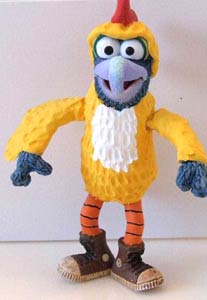 Ever notice how whenever you hear a story of someone who is presented with life-threatening news, you never hear the person say, "Well that's it. I obviously haven't spent nearly enough time working. I'm heading to the office –- I don't have a minute to spare!"
Pretty ridiculous, huh?
Then why is it, when we're NOT faced with life-threatening news, our actions suggest that work IS the most important thing in our lives? Notice I said actions. You can talk a big game about quality time and keeping first things first, but the proof of your real priorities is in your actions. Always.
Bob Kames died last month. You've probably never heard of him. But if you've been to a wedding in the past decade or two, I bet you've heard one of his biggest hits, the modern day version of "Dance Little Bird."
More commonly known as "The Chicken Dance."
Kames was successful in the music business and in show business, but a big life moment came in the mid 1960s. According to a Milwaukee Journal Sentinel article, he became gravely ill with stomach ulcers, and doctors told him that he was bleeding to death. His stomach was entirely removed. "As I lay there thinking about my life, it occurred to me that I hadn't spent much time with my kids," he said in 1968. "I decided to change things, if I lived, and among other things, take them to Disneyland."
Adultitis is the disease that tricks us into thinking that unimportant stuff is actually important. That playfulness is a sign of weakness and seriousness is a sign of success.
Don't be fooled. Make sure your actions match your priorities. And don't wait for some bad news before you give yourself permission to spend more time with your kids (or go to Disneyland.)
Life is a grand production. You only get one shot. Be neither too foolish as to consider the playful moments mere distraction nor too afraid to be more than a wallflower.
Dance little bird, dance.