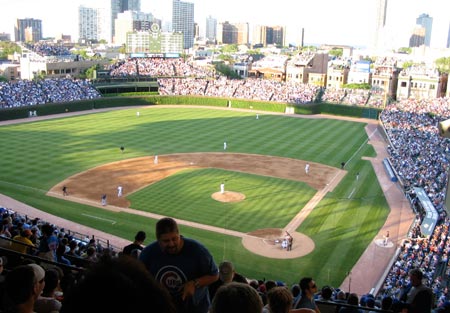 A friend treated Kim and me to a Cubs game last night. (Thanks Teresa!) It's been forever since I'd been to good ol' Wrigley and it brought back a lot of childhood memories. Things like the glow of the emerald green grass, the barking beer vendors, and the skewed perspective that causes certain "home runs" to fall harmlessly into the shortstop's glove.
It was 80º and perfect, and the Cubbies won 10 to 5, but I think the thing I enjoyed the most was the camaraderie. I didn't know how much I missed that.
That's one of the few downsides of living in Wisconsin, after having spent all but eight years of my life in Illinois: it's hard being a Cubs and Bears fan in a land flowing with beer (the Brewers) and cheese (the Packers.) Oh sure, I'll run into the occasional Chicago fan here in Madison, but usually I play the role of outsider. And last fall delivered more of the same when we were able to watch the Cubs take on the Diamondbacks in Arizona during the playoffs.
To be sitting among happy 41,000 fans, with all of us cheering the same balls and strikes and bunts and runs…well, that was a nice feeling. Between the shared rooting interest and the avalanche of good childhood memories, it felt a lot like home.
And that, as Martha Stewart would say, is a good thing.