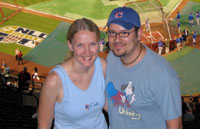 Well, I wish the Cubbies would have ended the night on a better note, but attending Game One of the the National League Divisional Series in Phoenix last night is an experience Kim and I won't soon forget. We've been in Arizona since Sunday for some speaking gigs. What are the chances that my boys would happen to be opening their playoff push in the exact same city on the day before we fly out, and our hotel is only about 15 minutes from the ballpark? It was an opportunity we couldn't let pass us by, and were able to find a pair of tickets on the internet.
I spent more on these tickets than I had ever spent for tickets in my life; arguably, with money we don't necessarily have. But Kim and I make sound financial decisions most of the time, which gives us a little bit of leeway in a situation like this. Whether it's the opportunity to get the ocean view when you finally visit Hawaii, splurging on the unforgettable gourmet dinner in New York, or getting tickets to cheer on your favorite team in the playoffs, sometimes life calls for doing the crazy, "financially unsound" thing.
I think the experience was summed up well by an older guy who was sitting next to what appeared to be his son. They were both clad in Cubbie blue. Electricity was in the air. After the starting lineups had been introduced, he turned to his son with a wide smile and said, "Now this is livin', isn't it?"
It's important to save and invest money, while making prudent, smart decisions, but as fellow professional speaker Dan Burrus says, "We should (also) create a widely diversified portfolio of unforgettable memories."
Sometimes we need to be reminded that life is for living. Are there any areas in your life where you're playing it safe when you really should be swinging for the fences?