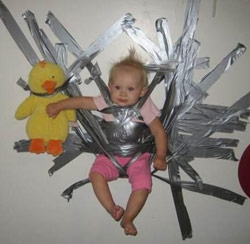 This weekend, Kim and I are planning to visit stores like Target, Babies 'R Us, and Just Leave Your Wallet at the Door It'll Be Easier in order to register for upcoming baby showers. (Raining babies, what a concept!)
In preparation, I, the dutiful father, have come up with an idea.
This could be one of my best ideas ever.
Or it could rank right up there as the one I most regret.
I thought it might be a good idea to get the advice of our readers on a few things, as I know plenty of parents are following along. We live in an apartment, so we don't have all kinds of extra space for the at-home version of McDonald's Playland. So here's what I want to know: What are the must-have, ignore-them-at-your-own-risk essentials? And what are the fuhgedaboutit, don't-even-bother-no-matter-what-everyone-else-says items?
So here's your chance. Veteran parents, please leave your thoughts in the comments. Other than duct tape (of course!), what are your 3-5 must-haves, and what are your 3-5 top fuhgedaboutits?