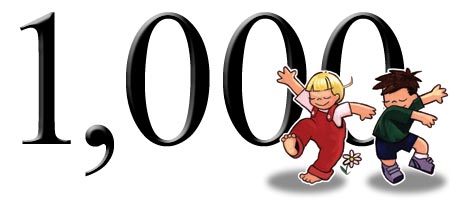 It's true: This is the 1,000th post. Maybe by the time we get to 2,000, they'll have developed the technology that will allow me to make confetti and streamers shoot out of your computer. Someday.
I can't even begin to take credit for all 1,000 posts. Kim started up her own blog during the summer of 2005 and we combined forces and merged blogs last August. She doesn't give herself nearly enough credit, but the truth is that she has written stuff that I wish I could claim as my own.
I started this thing on April 22, 2002 — over six years ago! — well before I had even heard of the term "blog." The first post actually appeared in a thread called "Bird Droppings" on an infrequently visited message board called The Sidewalk. Some of you K&J veterans may even remember it! (And by "some" I mean Jenna.) Here's an excerpt of the very first post, "The Beginning of Why":
I'm not sure how this journal will evolve, but I hope it will be at least somewhat interesting to whomever finds themselves reading it. The reason for starting this is not because I feel that I have some great knowledge or experiential wisdom to share, but mainly because my wife thought I should. Apparently, she thinks there are people besides her who might like knowing some of the thoughts that take up residence in my head.

My plan is to just write stuff here from time to time; stuff about the strip, the characters, and the daily ups and downs that go with trying to live out this dream. I imagine it will be sort of cathartic for me, which is good, because even if no one reads it, I'll have saved tons of money on a psychologist.
The good news is that people have been reading, and I have been touched by all of the kind words from people who have been inspired, encouraged, or entertained in some way. In looking back at my mention of chronicling the "daily ups and downs that go with trying to live this dream," I can think of five lessons I've learned along the way. Maybe they'll serve you as you pursue dreams of your own…
1) Just Get Started
It's very common to hold off on chasing a dream until the conditions are perfect. The fact is that there will always be some reason to convince yourself to stay put. So if you want to start out on your dream, get over the fact that the economy sucks, you're not as experienced as you wish you were, or your bank account doesn't have as much money as you wish it did.
The other thing that keeps people from diving in is intimidation, especially when they compare themselves to the success of others. I've had people marvel at the design and comprehensiveness of our website. Sometimes they throw their hands up, lamenting that they'll never have a web site like this. What they don't realize is that this web site has evolved bit-by-bit over the course of eight years. It's undergone countless revisions, thousands of tweaks, and we've added stuff to it one small piece at a time. Sorry to state the obvious, but Kim and I didn't write all 1,000 posts in one day.
Everything worthwhile — including the pyramids of Egypt — has been built the same way: brick by brick. The only way to see a dream come to fruition is to get started.
2) It Will Probably Take Longer Than You Think
Optimism is what fuels the dreamer. This is good, because it gives you the energy to get up every morning and blow past obstacles that come your way. And there will be obstacles.
Eight years ago, I thought our revenues would be much higher than they currently are. I figured Kim and I would own a home and have at least two kids by now. Even though we are growing and moving in the right direction, certain things have taken longer than I expected.
But other than flash-in-the-pan Reality TV "stars," there's no such thing as an overnight sensation. Do a little research on the people who have achieved real success, and you will find a history of obscurity filled with hard work, serious setbacks, and marginal successes. You should expect the same. But don't worry. Weeds grow quickly, sometimes overnight. Oak trees don't. Which would you rather be?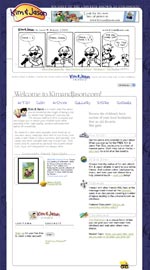 3) Don't Be Afraid To Change
When I first embarked on this path in 2000, the Kim & Jason comic strip was the center of everything. All of the products on the Lemonade Stand featured their likenesses, I had dreams of getting syndicated, and Club K&J was little more than a fan club for enthusiasts of the strip. (Check out the screen shot to the right to see what this site looked like when this blog began.)
But then the vision evolved, and my dream became much bigger than building a comic strip empire. I wrote a book. I started my speaking career. Kim and I began working together. The Lemonade Stand evolved to include thousands of new products, most of them having nothing to do with the Kim & Jason characters. We started impacting new people in new ways.
On December 11, 2007 I announced my decision to retire the daily comic strip. Let me tell you, that was a toughie. I feared that my dream was dying and I struggled to let go. But let go I did, and the business — and mission — evolved in remarkable ways. I took about a year off from Kim & Jason, which allowed my creative juices to bubble up. Now I am working on a new Kim & Jason project that fits better with my current lifestyle and has me more excited than I've been in a long while.
As you travel on your own path, don't be afraid to change. It will be scary at times, but if you can go with the flow and follow where your heart leads, your dream will evolve beyond your wildest imagination.
4) Take Time to Look Back to See How Far You've Come
One thing I constantly have to remind myself to do is take time to look back at how far we've come. I tend to be a very forward-thinking person with big dreams. When you have big dreams, it's easy to get caught up in a perpetual state of "never quite there." To avoid burning out, it is vitally important to take inventory of what you've been able to accomplish.
In the past eight years, I've written three books (one of which was published by a major publisher), launched a career as a professional speaker, was named the "Rising Star" of the National Speakers Association of Wisconsin, secured licensing deals for Kim & Jason in countries like Japan and Australia, and moved into a ridiculously awesome new office. Not too shabby for a shy kid from a small town who started out in an old apartment with no money. These are the things I need to reflect on when I feel like we're not making any progress.
When chasing a dream, be careful not to only compare where you are with where you want to be. Don't forget to spend time comparing where you are to where you used to be.
5) Go With God
Faith is vitally important to me and Kim. We've had many dark and scary moments, moments that made us question our sanity and consider throwing in the towel. But time and time again, God has provided for us in amazing ways, often just in the nick of time. He's guided me in directions I'd never considered and led me to people that I needed to know. And He's given us the strength to keep going, even when the road was dark and hope seemed lost. I can't imagine undertaking this journey without him.
I believe all real dreams come from God; they were placed deep within our hearts by a creator that loves us. The only way to achieve God's best for you is to follow his lead. Pray for guidance. Pray for wisdom. Pray for strength. Somehow, he orchestrates things so that they always work out for the best.
These are five lessons I've learned while chasing my dream. And as the journey continues, I'm well aware that school is still in session.