Kim and I are in New York City for a conference. You can't beat the energy and excitement level of the Big Apple. You never know who or what you'll see.
Escape Plan Challenge #36 implores you to accessorize your wardrobe with a touch of childhood. If you wanted to forgo a "touch" of childhood and go all out for a full on "flood," these Hershey-themed dresses might just be the ticket. Yes, the middle one is made entirely of Reese's Peanut Butter Cup wrappers (and check out the sweet — literally — belt made of Rolos):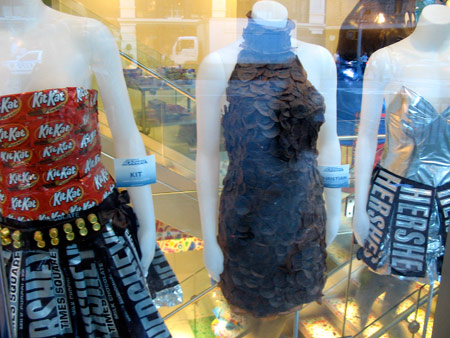 A bona fide product of mirth. We saw these at the Willy Wonka-inspired Dylan's Candy Bar, which is an Adultitis Hospital if we ever saw one. Sweet.