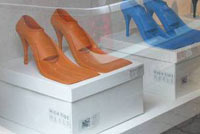 Several weeks ago I came across a post on the Church of the Customer blog entitled, Products of Mirth. It featured a photo of some interesting shoes, pictured here. First, I had to ask Stinky what "mirth" meant. He told me that it was a noun that meant "gladness and gaiety, especially when expressed by laughter." Got it. (I'm so glad he is a connoisseur of the English language.)
Apparently, the high-heeled flippers are not for sale. They're a simple art project. I think they're pretty funny, but I like even more what Ben McConnell had to say about them:
It would be hard to imagine a child looking at that photograph and saying "someone has too much time on their hands." A child would probably imagine the possibilities of high-heeled flippers.

That's the thing about mirth, especially with children: they enjoy mirth without shame or guilt, whether it's the delicious ridiculousness of green eggs and ham or a knock-knock joke they repeat 20 times to grandma. Mirth is joy. People with a happy infectiousness spread their joy. To a little kid, mirth isn't stupid. Mirth is a license to share. Mirth spreads.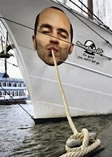 Turns out, I'm a sucker for mirth. Mirth is cool.
Examples of things created with a splash of mirth are everywhere. Funsmith Bernie DeKoven recently pointed out a noodle-eating ship and CDs that put their holes to good use. Heck, our Lemonade Stand is chock full of mirthiness (note to self: check with Stinky to see if that is a real word), including one of my favorites, a Snail Tape Dispenser.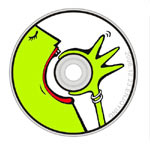 On the whole, these little touches don't seem to really add anything to the overall functionality of the product. To the person with Adultitis, they may seem unnecessary, superfluous, or as Ben McConnell writes, evidence of "someone having too much time on their hands." But they actually do something quite important.
They have the power to uplift the human spirit.
"Products of mirth" are divine. You see, God has a playful, witty, and whimsically creative spirit. You can see that time and again in his creation: the platypus, the giraffe, a puppy's tail, the infectious giggle of an infant. The Bible itself is filled with ironic twists and parables that turn things upside down. Look in the mirror first thing tomorrow morning and tell me that God doesn't have a sense of humor.
When we as humans tap into that spirit, adding a sense of playfulness and whimsy to the world around us, magic happens. We connect with something supernatural. Something good. Something that elevates the human condition.
P.T. Barnum once said, "The noblest art is that of making others happy." Whether you are a business owner or an artist or a marketer or a school teacher or an architect — whatever you are — never underestimate the power of a smile. Whenever you can bring a little gladness and gaiety to someone's day, do it. Ignore the people with Adultitis; there is nothing superfluous or trivial about it. It's one of the reason's you're here.
God knows, we could all stand to be a little more mirthy.
[tags]mirth, Chuch of the Customer, whimsy, playful, Adultitis, marketing, platypus, giraffe, P.T. Barnum, God[/tags]