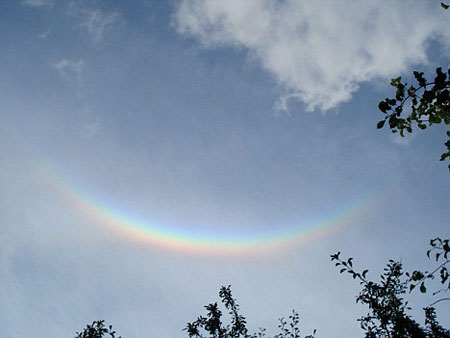 A friend sent me this photo a few weeks ago. It's not some elaborate Photoshop trick; it's a real-live upside down rainbow, er, circumzenithal arc. The photo was taken in the UK by 60-year-old renowned astronomer and writer Dr Jacqueline Mitton. You can learn more about this super rare phenomenon here.
The photo, which reminds me of a smile, got me thinking about happiness.
Are YOU happy?
We often attach the feeling of happiness to outside conditions. The state of the economy, for instance. Or our present health condition. Or how our favorite team is faring in the standings. Sometimes I fall victim to that too.
But then I stopped to consider the wide range of feedback people have given us about this baby we're gearing up to welcome into the world. (It's a fact: an obviously pregnant woman is an automatic conversation starter — people just can't help themselves.) Most of the reactions to our impending arrival falls into two camps. One side contains statements like this:
That's really gonna slow you guys down."

"Get lots of sleep now, you're gonna need it."

"Your life is over."
The other side features remarks more like this:
Having a kid was the greatest thing that ever happened to me."

"You guys are gonna be the best parents!"

"You won't even believe how much you can love something!"
When people hear you're going to have a baby, they either go positive or negative. There doesn't seem to be much in between. It's kind of amazing to me that such a universal experience can draw such extremely different reactions. And if step back to examine the situation, it becomes pretty obvious that the people with the positive perspective seem to be the happier of the two groups. Clearly, attitude goes a long way.
Here's the point: forget the economy, the other political party, and the hometown team.
If you're unhappy, the reason might just be you.