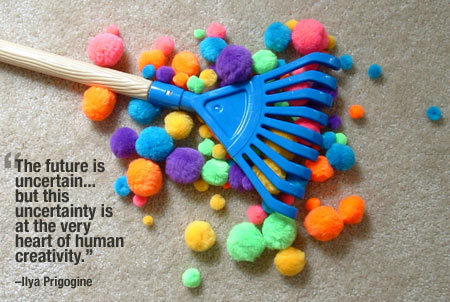 The biggest news of the last month has not been the election, but the economy. From bad loans to bloated bailouts, the losing of jobs to politicians losing their minds…it seems as though the downturn is on everyone's mind.
And causing a LOT of stress.
The worst of the stress comes when we fixate over things we can't control. As the media, politicians, and pointy-headed pundits like to point out, we are living in uncertain times. But think about this: Are we ever living in certain times? Does any one of us ever know what next year will bring, much less next month or even tomorrow? Life, by default, is uncertain. Maybe you'll live to be a hundred. Maybe you'll get hit by a bus tomorrow. Only God knows the future.
There is no sense getting ourselves all worked up about things that are largely out of our control. Should we be concerned about this economic mess? Of course. Should we do what we can to get things back on track? You bet. But let's leave fear out of the equation.
When we are scared we become emotionally paralyzed. And when we are emotionally paralyzed, we stop living.
My Dad taught me that there is a reason for everything, and that there's always an upside to every downturn. The events of the last month provide us with the opportunity to shift our focus from the things we can't control to the things we can control. It's an opportunity to be reminded that life is not about the "stuff" or the things that are artificial. Life is about connecting with other people; it's about our relationships with our friends, family, and people we love. It's an opportunity to pull closer together as families, a time to start having fun the old-fashioned way.
Frankly, that's gonna be our focus with Club K&J. In the months ahead, we're going to dish out tons of easy, inexpensive, and fun ideas for making memories with the people you love. (Perhaps it's something you'd like to be a part of.)
Children, although small and inexperienced in the ways of the world, seem to have an innate ability to understand what's really important in life. I am reminded of the story of a boy who yearned to have some time with Dad, but Dad was always busy working. Long days at work and weekends spent doing household chores ate up most of his time. Finally, Dad announced that he was taking his son out for a day on the town. They'd go to the biggest toy store and the boy could pick out any toy his heart desired.
His choice? Not a flashy electronic gizmo or the latest video game system, but a lowly plastic toy rake.  He saw an opportunity to spend more time with his Dad in the backyard, working alongside him on the household chores.
There are a lot of things in this world you can't control. Don't let fear and paralysis keep you from tending to the things you can.