A surefire way to Escape Adulthood this week is to carve a pumpkin. I know, it seems too simple, but sometimes the simplest ideas are the best ones. On my morning walk (or waddle, as Jason calls it), I love seeing all of the jack-o-lanterns adorning the walkways and stoops of houses in our neighborhood. They bring a smile to my face.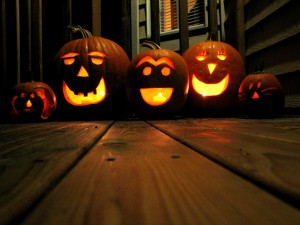 When you're living with Adultitis, you often find yourself making excuses for why you are not having that extra fun. You haven't carved a pumpkin yet this fall because… well, it's messy, for one. Plus, you haven't even bought a pumpkin, so you'd have to take time to go get one. Plus, they rot so quickly- what's the point, really?! Well, set all of the excuses aside, and trust me on this one… it will instantly remove any stress and worry that may be keeping your heart beating a bit faster than it needs to.
There are so many cool websites out there to help you take your pumpkin carving experience to the next level. The site Extreme Pumpkins, created by pumpkin carving lover Tom Nardone, is an excellent place to visit before you sit down to start carving. Not only can you learn awesome techniques and tips and get inspiration from past winners of their annual contest, you can even watch a giant pumpkin being carved, using a sawzall with a 10 inch blade. Way cool!
I also happened upon a woman known as "The Pumpkin Lady." Lisa Berberette is a professional pumpkin carver! How great of a job is that!? She's been featured on The Food Network, The Martha Stewart Show, and Fox News. She offers a number of fun free patterns to try and a bunch of "how to" videos. She also recently shared "11 Steps to Carving the Perfect Pumpkin" on Grandparents.com (a SUPER COOL site, by the way).
So, if you find yourself absorbed with stress this week and you have yet to carve your Halloween pumpkin, the solution is easy. Get some online practice here!
If you're looking for even more ways to de-stress this week, check out my post from last year sharing 31 Ways to Escape Adulthood This Halloween.
Happy Halloween Week!