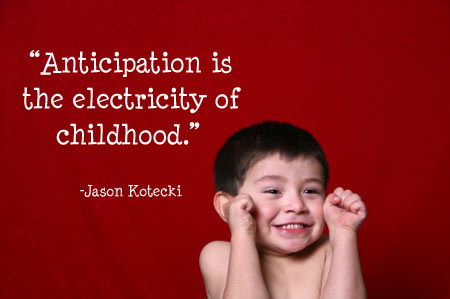 There is something lacking in our society today.
I believe it's one of the reasons Adultitis is so rampant.
These days, we are in short supply of anticipation.
Remember the days when you'd use most of October to dream up and analyze myriad Halloween costume ideas before settling on the perfect one? Remember using Herculean effort to try and fall asleep on Christmas Eve, even though visions of what might be in Santa's bag made that nearly impossible? Remember fantasizing about what sort of Valentine message you'd get from the person you secretly had a crush on?
Anticipation is the electricity of childhood.
To be honest, that space of not knowing was pretty torturous as well. As kids, however, there wasn't much we could do about it. You could beg Dad to let you in on the surprise he announced was up his sleeve, but he'd never budge. And so you were forced to wait with your stomach tied up in knots, certain you'd die from the rising levels of giddy anticipation.
As adults, we like not knowing even less than we did as kids. It makes us feel powerless, out of control. But alas, now we actually have the power to do something about that torturous netherworld of not knowing. And so we do.  As is our modern day custom, we eliminate one problem only to inadvertently create several more. (You've seen those pharmaceutical commercials in which the side effects seem much worse than the original problem, haven't you?) In our haste to cut to the chase and avoid the torturous space of not knowing, we discard one of the best parts of life. And we only have ourselves to blame.
There is something fun about not knowing. That space of not knowing, in which time slows to a snail's pace, allows our imagination the time to sketch wildly the visions of infinite possibility.
Kim and I have elected not to discover the sex of our baby. There are too few surprises in the world, and we decided to keep this under wraps for the full term. Some people think it's cool, others think we're crazy. One woman in an airport even went so far as to say, a bit dumbfoundedly, "Oh. I guess that can be fun too."
Many people elect to find out this not-so-little detail as soon as possible. That's fine, but I find it funny how often they use a lot of responsible sounding grown-up language to justify it, as if knowing were a necessity. I can certainly understand the overwhelming WANT to know, but I have never come across a good explanation of why one would NEED to know. Period.
In some ways, it's driving me crazy not to know. Absolutely bonkers. I am up to my eyeballs in anticipation, and you know what?
I love every torturous minute of it.
My imagination has been stretched to the limit. Will the years getting to know this little one be spent spitting sunflower seeds and talking guy stuff, or having tea with a princess and perfecting my role as Prince Charming? This period of not knowing has been exciting, and downright fun.
It's quite tempting to skip to the end, to sneek a peek, to make the magician reveal the the secret to his trick. Especially when you can. Resist, my friend. Don't rob yourself of the misunderstood and unheralded joy of anticipation.
Because it's never much fun to unwrap a present when you already know what's inside.
*   *   *   *   *
{democracy:7}
*   *   *   *   *