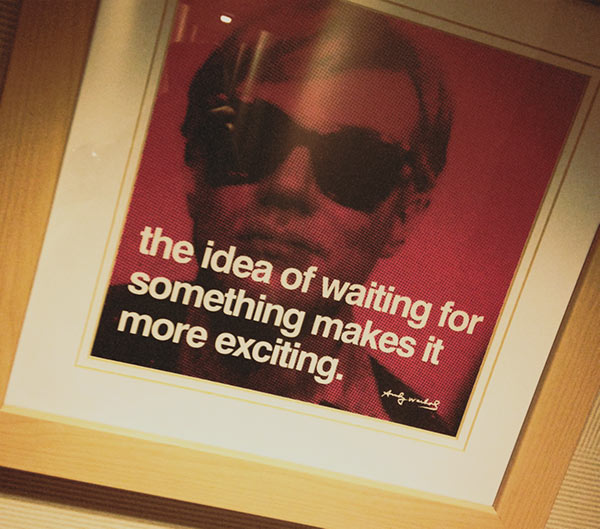 I blame the microwave oven. Apparently it was the gateway drug that fueled our insatiable desire for immediacy. When you can cook an entire dinner in 30 seconds, why wait for anything?
I was shocked to see that our neighbor put up her Christmas tree the day after Halloween. I tried to imagine a plausible explanation. Perhaps she was leaving for a two-month trip to New Zealand and wouldn't return until Christmas Eve, and she certainly wouldn't want to have to unpack AND put up the tree? Then I started seeing and hearing of more people doing the same. I saw one house with a Christmas tree in their window and a jack-o-lantern on the porch.
Look, I'm not the Christmas police here. I'm not exactly sure what the "appropriate" time to put up your tree actually is. I only point it out because I see a bigger trend here that involves more than just the early onset of Christmas.
It involves the concept of waiting. Or rather, our increasing disdain for it.
For example, people look at Kim and me like we have lobsters coming out of our ears when we tell them that we don't know if our baby is going to be a boy or a girl. One lady, upon learning that this was our third child, gave us an "oh, isn't that cute" look, and went on to assume that we of course found out for our other two. When we told her we hadn't, I'm pretty sure one of the fuses in her brain burnt right out.
Whether it's finding out the gender of our babies, to carrying credit card debt, to putting our Christmas trees up that day after Halloween, to nuking our Thanksgiving dinner in a minute or less, we have turned into a culture that can't wait for anything. Of course, we have perfectly reasonable explanations for any of these actions, but are the actions really necessary?
I realize that I am in danger of inciting a holy war. Trust me, that's not my intent. I only bring it up because it seems like we are systematically eliminating from our lives one the greatest things about childhood: anticipation.
I think Andy Warhol was right: Waiting for something DOES make it more exciting. At least that's what I've found true in my own life.
Don't get me wrong. Waiting is HARD. It borders on downright terrible sometimes. It's not surprising that when we have the opportunity to NOT wait, as we often do once we become adults, we want to skip to the last page and see how it ends.
When we do, we get a momentary thrill of instant gratification, but we lose something much greater. One of the reasons Adultitis is so rampant in our lives is because we are in such short supply of anticipation.
I've written about this before, but it bears repeating, especially this time of year:
It's quite tempting to skip to the end, to sneek a peek, to make the magician reveal the the secret to his trick. Especially when you can. Resist, my friend. Don't rob yourself of the misunderstood and unheralded joy of anticipation.
What do you think? Am I on to something or is Adultitis getting the best of me?