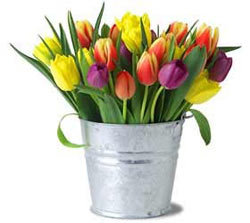 Yesterday was my thirty-third birthday. Wow. I guess if I'm really lucky, I'm about a third of the way through. If I'm not, an asteroid could land on my head later today.
In some ways, thirty-three seems old, but to be honest, I don't feel much older than twelve. Just a bit wiser, I hope.
I spent part of yesterday morning reflecting on things of the past and things to come. I wondered what my 99-year-old self would say to this 33-year-old whippersnapper if he had the chance. Surprisingly, he was eager to share a few things, and this is what he said:
1) Don't waste time worrying about stuff. God will provide; He always has. Why waste a moment worrying about things He already has under control?
2) Say "yes" more.
3) Say "no" more.
4) Say yes to the things that stretch you beyond your comfort zone, and say no to rules that don't exist.
5) There are way more of these "rules" than you can possibly imagine.
6) Don't feel bad about spending money on fresh cut flowers. They're worth every penny.
7) If you're feeling overwhelmed, you're probably trying to do too much.
8) Watch less TV. There are a million better ways to spend this gift of life.
9) Don't try to do great things. Let God do great things through you.