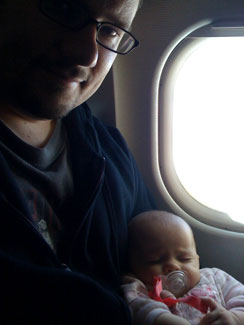 Bright. Cheery. Helpful.
These are words I'm not used to associating with people working in the airline industry. More commonly, I've noticed that security officials and airline employees tend to be among the most riddled with Adultitis. Little did I know that there is a simple solution to help raise them from their doldrums:
Just add baby.
Yep, our first flights with Lucy this week have actually bordered on enjoyable. Part of the reason is that we've alotted more time for things, which has taken much of the edge off travel. (It's amazing how much less stressful life is when you're not always in a mad dash to be first, be it first in line, first on board, etc.) But another reason things have been so nice is because of how pleasant and accommodating everyone has been. Maybe its sympathy or maybe it's a melting of defenses, but people seem to be much more approachable, and, well…nice, when you have a baby in tow. Frowns turn upside down, help comes from nowhere, and friendly conversations start up without effort.
We'll be sharing more of our adventures in travel in an upcoming episode of The Escape Adulthood Show, but for now I will say that I've been pleasantly surprised by this unexpected wrinkle.
It kind of makes me wonder why we can't treat each other with such regard all the time. After all, we were all cute, lovable, little babies once.
Even the most hard-hearted baggage screener.