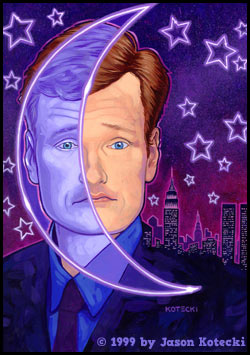 Kim and I have been watching the inaugural episodes of the new Tonight Show with Conan O'Brien. I think he's doing a great job, and have been enjoying the shows. I've always connected with Conan's goofy brand of humor. (I did this painting of him when I was in college.)
One of my favorite jokes from last night came during the "In The Year 2000" segment Conan and sidekick Andy Richter resurrected from their old Late Night days. (The skit has been updated with fancy new costumes and the title, "In The Year 3000.")…
In the year 3000, Jesus returns to Earth, but due to the bad economy, is forced to lay off seven of the twelve apostles.
It has been a fun little routine crawling into bed with Kim to watch the 6-foot-4 redhead. It's always better to fall asleep with a smile on your face than with a heart burdened by the worries of the world (I'm looking at you, evening news.)
I'm not sure if The Tonight Show is a better antidote to the doom and gloom the news sprinkles on your pillow than a good children's book, like I've written about before, but laughs are always good for what ails ya.
And definitely one of my new favorite ways to escape adulthood.
How about you? What's your favorite bedtime routine for escaping adulthood?