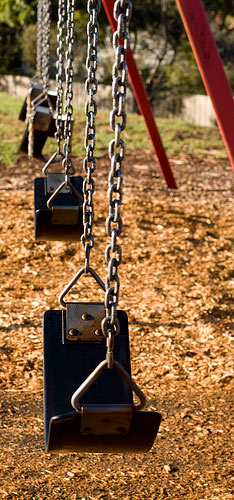 It's summer, but I have to keep reminding myself that school is out. Because I don't see any kids. Not during the day, at least. It's eerily quiet. I suppose they are all probably inside playing Wii, or more likely, off at some day care center.
It's a shame, if you ask me.
For most of the kids in my generation and the ones before, summertime was enjoyed outdoors. At home and around the neighborhood.
My brothers and I spent our summer days in and out of the kiddie pool and sandbox (resulting in a wet sandbox and a sandy pool). With a tennis ball, a pitchback, and a few slabs of square plywood to serve as bases, we devised countless baseball derivatives to amuse ourselves for hours. (Were we the only nerds obsessed with keeping stats?) And yes, sometimes we'd actually run out of ideas and complain to my mom that we were bored.
No one ever admits that they're trying to keep up with the Joneses. Because the Joneses have evolved into those snobby people nobody wants to be like — the ones who hold their pinky up when they drink Perrier while sitting on their shiny yacht in Tahiti.
These days, most families have both parents working — with kids off in day care — not in an attempt to keep up with the Joneses, mind you, but just to "make ends meet." What's sad is how we live in a country where having two cars, air conditioning, and hundreds of channels on our TV is considered barely scraping by.
The Joneses are not some hoity-toity facsimiles of Thurston and Lovey Howell from Gilligan's Island. The Joneses are your friends. Your neighbors. Your co-workers. The parents of your kids' classmates.
Now for the hard questions. What's your definition of "getting by?" What "necessities" in your life are really just thinly veiled luxuries? What are you giving up in your efforts of "getting by?"
We live in a land of plenty. But plenty hardly seems good enough anymore. Indeed, our quest for even more "plenty" has led to some unfortunate downsides.
Like our children getting gipped out of a summer vacation.