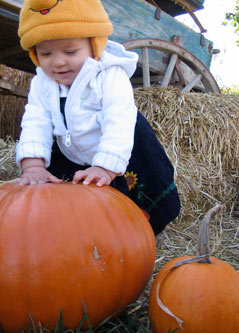 Lucy is eleven months old today, and she's starting to give hugs now.
Holy cow, is THAT ever cool.
Especially because up to this point, she hasn't been what I'd describe as "touchy-feely." Sure, she'll nestle in close if she's really tired, but most of the time she's much too independent for any of that mushy stuff. She's quick to wriggle out of your arms to go exploring and generally do her own thing.
I think the eleven month mark is way too early to be getting glimpses of what the teenage years are going to look like.
But yes, the hug thing is pretty cool. I've been so focused trying NOT to wish away time by looking ahead to "easier" stages that I honestly haven't spent a ton of time thinking about the fun stages ahead: getting kisses, hearing her say Daddy, and coloring together at the kitchen table. Because of this effort, these fun things have become little surprises along the way, which is cool.
As much as I wish there was, there is just no "pause" button, dangit. (Thanks for the reminder on that, Mel.) I feel like I've done a pretty good job trying to squeeze the marrow out of every moment, but time is still flying by. I mean I'm not perfect or anything. I still find it easier to dive into work — which seems more tangible and productive — than sit and watch her play, which I know is no less important. But being mindful of that urge is a good thing, and I'd give myself an 8 out of 10 in that department.
I guess I should rest easy knowing that I was mindful of the little moments along the way and that I won't have to worry about the regret of missing out on the good stuff because I was too "busy" doing other things. That's the best any of us can hope for.
What really stinks is that even if you do EVERYTHING right (which is, of course, impossible or something), you still can't stop a little girl from growing up way too quickly.
Dang.
Happy birthday, Lucy. Slow down a little bit, okay?