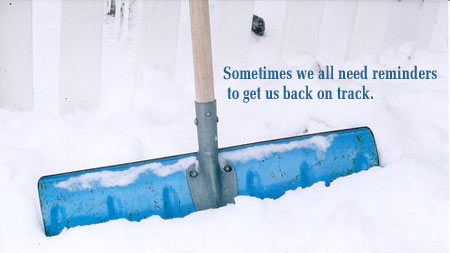 Today was a snow day. Over a foot of snow. Blizzard conditions. The governor declared a state of emergency and authorities urged people to stay off the roads if at all possible.
Since Kim and I both work from home, we were able to stay in and decided to take most of the day off. Sure, we have a lot of stuff on our to-do lists, but days like this don't come around all that often. You have to take advantage of them when they come.
But I must confess: I did partake in my share of inner grumbling as I struggled to shovel the driveway and sidewalk. (Ah the joys of home ownership!) The snow was wet and heavy, and my back still aches as I write this.
But then I thought of all the people who HAD to be out there today. The police officers. The ambulance drivers. The snow plow operators. They're out there, away from their families, keeping us safe. Before long, my thoughts turned to the men and women in the armed forces. The ones overseas, thousands of miles away from home, who'd probably give anything to shovel their driveway, knowing that the smiling faces of their children and cup of hot chocolate awaited them inside.
I always assure the audience at the beginning of my speaking programs that I'm not there to teach them anything new. My job is to remind them of the things they already know. It's easy to get caught up in the daily hustle, losing track about what's really important and grumbling about trivial stuff. Sometimes we all need reminders to get us back on track.
This video was my reminder today. It's a few years old, but it made me cry like a school girl. I bet it will do the same for you.
http://www.youtube.com/watch?v=Kpohfny7jWg
Watching this video reminded me of just how lucky I am to be able to shovel my driveway and then walk inside and have lunch with my two favorite girls in the world. Very lucky, indeed.
To all the service men and women out there, especially the ones who won't be able to make it home this Christmas. Thank you.
Thank you so much.
You're some kind of awesome. I doubt I'll ever be as brave or dedicated or heroic as you.
Happy Holidays. Come home safe, ok?