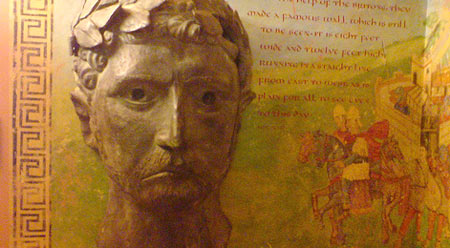 It seems like every audience I speak to has one.
A grumpy dude with his arms folded and a face that looks like it was turned to stone by a quick glance at Medusa.
Early in my career, it used to bug the heck out of me. I'd get all self-conscious. I'd wonder: Does he think I'm too young? Does he think my jokes stink? Is he the dude I saw last night on America's Most Wanted?
It was quite tempting to either 1) question my own skills and delivery as a speaker, or b) call him names in my head. (Jerkbutt was among my favorites and most family-friendly.)
Most of the time I'd do both.
I eventually decided to heed the advice given to me by so many more experienced speakers. Even though I'm what some might call a "motivational" speaker, I can't really motivate anybody to do anything. No one can.
If we want to lose weight, get out of debt, or even laugh, we have to be open to it. I like to think that I provide a path and a little bit of insight and encouragement for people who are ready.
That being said, I still notice Mr. Stoneface. He was in my audience last week, in fact. Instead of worrying about why he didn't seem very captivated by my presentation, I decided not to judge him or, more importantly, myself.
I forgot about him, and focused on the people who were more attentive. I spent 90 minutes doing my thing, and at the very end of the program, as I showed the video of Kim and me getting fresh with some giraffes, I noticed him.
He was laughing.
And that made my December. I was reminded of times when other seemingly guarded and uninterested men have come up to me after my program to let me know how much they enjoyed and appreciated what I had to say. Believe it or not, some of the people who've been impacted the most are the very same people who, during the presentation, seem like they'd rather be shaving rabid goats with a broken razor.
For some reason, those moments are hard to remember when you're the recipient of a blank gaze from a face of stone.
This holiday season, you're bound to encounter your own jerkbutts. Maybe they'll ignore your friendly greeting. Maybe they'll appear to be uninterested in what you have to say. Maybe they'll snap at you for no good reason.
One thing I've learned is that it probably has nothing to do with you. Don't let their gloominess get you down. You never know what's going on in their world.
Maybe they just lost their job.
Maybe they're tired from working overtime to pay for insurance.
Maybe their dog just died.
Don't take it personally and don't let it get you down. Turn the other cheek. Be yourself and do your thing.
Maybe, just maybe, you'll make their day and not even know it.