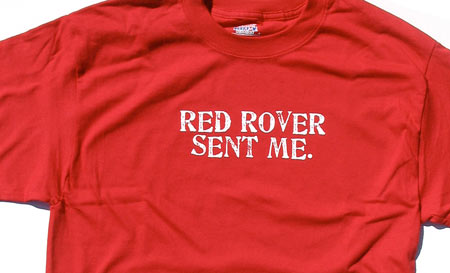 I collect t-shirts. I love 'em. Except for when I play dress-up at weddings and funerals, I pretty much wear one every single day. I even wear a t-shirt when I speak, which absolutely horrifies my more uptight, more "properly dressed" speaker friends.
I have nothing against ties, I just don't want them strangling my neck on a regular basis.
As a graphic artist, one of my favorite things to do is design t-shirts. It's one thing for an artist to have someone point out how much they appreciate a particular work, but it's another thing entirely to have them like it enough to actually wear it.
Like, in public.
We've featured a lot of t-shirts over the years at The Kim & Jason Lemonade Stand, and we currently have a crop that I'm pretty proud of. They've been a hot commodity at our recent speaking gigs, and for a few more days, we're running a sale in which every shirt is $6 off. Some designs have limited quantities, and a few may not be reprinted in order to make room for some new ones. (I just can't help myself! Must. Create.)
By the way, if you're stumped by the Red Rover reference in the t-shirt above, it refers to an outdoor game played by children that originated in England in the 19th century, before spreading to Australia, Canada, and the U.S. According to Wikipedia:
The game is played between two imaginary lines, usually around thirty feet apart. Each team lines up along one of these lines, and the game starts when the first team calls out, "Red rover, red rover, send [name of player on opposite team] right over."

The immediate goal for the person called is to run to the other line and break the chain (formed by the linking of hands). If the person called fails to break the chain, this player joins the team which called "Red rover". However, if the player successfully breaks the chain, this player may select either of the two "links" broken by the successful run, and send them to join the team that had been called out. The other team then calls out "Red rover" for a player on the first team, and play continues.

When only one player is left on a team, they must try and break through a link. If they do not succeed, the opposing team wins. Otherwise, they are able to get a player back for their team.
So there you go, the skinny on Red Rover. The Adults Who Are Ruining Everything have banned it on many school playgrounds, so you know it must be fun.