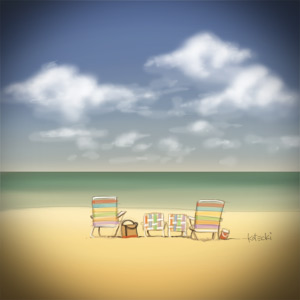 It's early in the morning, but the day already promises to be a spectacular one. The sun beams its bright rays through the windows and the fluffy cloud-studded sky is already a perfect shade of blue.
Spring break is definitely here, but there's no break about it. Jenny is rushing around the kitchen trying to simultaneously pack her briefcase and the backpack the girls will take to daycare, trying not to mix items between the two. The last thing she needs is a set of finger paints for her client meeting today. Hannah and Sarah are buzzing around the kitchen table, playing a new game with two paper towel rolls.
Four-year-old Hannah, with pigtails held together by twin butterfly clips, stops long enough to tug at Jenny's black skirt and ask, "Mommy, can we go to the beach today?"
It's not an unusual request. The beach is one of their favorite places — Jenny included. Maybe because it's got the perfect sand and is never crowded; maybe it's because visits are all too few. As tempting as the offer is, the response comes quickly.
"Honey, not today. I have a meeting with a very important client today."
Jenny is relieved when Hannah runs off to continue the game with her sister. With only five minutes before they need to be pulling out of the driveway, Jenny doesn't have time for long-winded explanations. Not today. She scans the counter to make sure she's not forgetting anything. Relieved that her cell phone is charged, she concludes that she's "pretty sure" neither her briefcase nor the backpack is missing anything important. A quick look at her compact reveals that there is nothing in her teeth and her hair looks decent, all things considered. That's when she remembered the dry cleaning. If she doesn't drop her dress off today, she'll never get it back in time for the fundraising event. But where is it?
"Let's go girls!" commands Jenny. "Get in the car — Mommy will be right out."
As Jenny prepares to scramble downstairs to see if she might have left the dress in the laundry room, Hannah drops a question that falls heavy on her heart.
"Mommy, someday, when we grow up, can WE be one of your very important clients?"
* * * * *
Perhaps you can relate to this story. It was actually inspired by an old AT&T commercial touting the benefits of mobile devices that let busy moms work from anywhere — including the beach. I was in the audience when an award-winning advertising veteran described it as an example of a successful ad.
"Did it convince you to buy anything from AT&T?" blurted out a skeptical audience member.
"No," the speaker admitted. "But it did cause me to quit my job and completely transform my life and career so I could spend more time with my kids."
Wow.
Life balance looks different for everyone. The only constants are that it's always changing and it's never easy.
What IS easy is getting caught up in the hectic busyness of life, that place where time flies even though the days are long. At this hurried pace, sometimes perspectives and priorities can be turned upside down. Even the most responsible, well-intentioned, well-adjusted adults need reminders sometime.
For instance, no one ever said this on their deathbed…
"I just wish I would have spent more time at the office."
–Nobody
However, people DO say that they wish they would've spent more time with loved ones, enjoying the perfect days.
Perfect days are called that because they don't come around all that often.
Client meetings can be rescheduled. Childhoods can't.