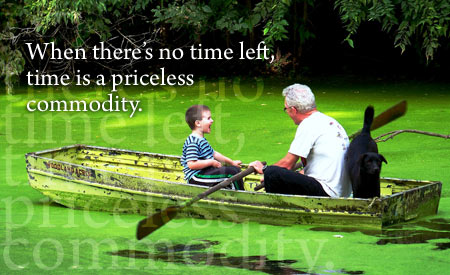 There once was a man named Chuck who had a few years left 'till retirement — the final stretch. The previous forty years of his life had been truly awesome. He felt blessed being the dad to four amazing kids, now all grown. He enjoyed challenging and rewarding work. He took opportunities to coach some of the kids' sports teams and to travel to memorable places. He and his bride of 41 years were best friends and partners on the crazy journey (and crazy it often had been.)
Chuck was now the big 6-0 and was in good health, as opposed to many of his peers. Good or bad, his life had been filled with a constant state of busyness. Even with retirement on the horizon, with four grown kids, four in-laws, even more grandkids, and countless home projects – the weekends were still quite busy. He had assumed life would get simpler and quieter once the kids were out of the house. Being empty nesters for almost ten years, he finally resigned himself to the reality that his life was busier than ever and didn't look to be slowing down anytime soon.
Chuck had a big decision to make. He was at a crossroads. Sizing up the next 15-25 years (hopefully), he could go down two very different paths. He could spend a good deal of his time doing a bunch of work, chores and projects to keep up with his aging property and mature landscaping. He certainly had enough projects to keep him busy until the end of his life (don't we all?!)
Or, he could go another route. Chuck could choose to spend that same time with his wife, kids and grandkids, siblings — heck, even some dear friends. He could use his years to consciously create countless memories to be treasured. Road trips, family dinners, birthdays, camping adventures, surprise parties, picnics — there were plenty of opportunities to be truly present and make some amazing memories with those closest to him.
Seemed like a no brainer, right?
It wasn't.
You see, Chuck was raised with an admirable "do-it-yourself" mentality. A child of parents from the Great Depression, every penny was pinched. He was taught that if you are able to physically do a task (or learn how), you should save the money and do it yourself.
Although Chuck had a nice stash of cash from years of disciplined saving that would someday be gifted to his kids, he didn't want to touch that money unless there was an emergency. He was thrilled about the thought of leaving a nice inheritance for them and their families. This was to be his legacy. The thought of dipping into that money to pay for services he could do himself seemed foolish and self-defeating.
But, what if Chuck spent three hundred dollars a month to maintain his yard work and home projects? If Chuck lived for 15 more years, he would spend $54,000. A pretty good chunk of change, to be sure. This is money that would have been part of his children's inheritance.
What would you do if YOU were Chuck?
Is this a wise investment?
How much time could he invest in the lives of his loved ones with these hours? Can you put a price tag on this time?
If he paid his help an average of $15 an hour, this would free up 20 hours a month, 5 hours a week — basically, one Saturday afternoon a week. Over the course of 15 years, this adds up to a total of 3,600 hours — 225 days if you don't count sleeping — which is over half of an entire year.
Should Chuck give his family $54,000 or 225 more days of his time?
Is the gift of time more valuable than the gift of money?
For those who have lost a loved one, the answer is easy. When there's no time left, time is a priceless commodity.
What are you investing in?