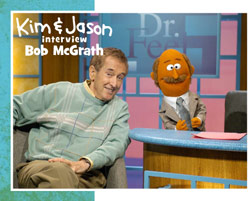 A few years ago, we had the privilege of interviewing long time Sesame Street cast member Bob McGrath. We had lots to ask him. How did he go from a childhood home with no TV to being a beloved cast member on one of the most popular children's television shows ever? Who is his favorite Sesame Street character? What has he learned from working with kids? What was it like working with Big Bird and Oscar the Grouch? Bob answered these and more questions, and shared some behind-the-scenes stories from life on Sesame Street.
We featured the two-part interview in Escape Adulthood podcasts #30 and #31. We also put together a 37-page eBook featuring a transcript of our entire interview.
Download the 37-page eBook here. (444 KB)
Oh, and if you're a really big fan of the inhabitants of Sesame Street (or as Dwight from The Office says, "Those puppets that live in the barrio."), you might also enjoy reading What You Can Learn About Treating Adultitis from Bert and Ernie or watching us discuss Which Sesame Street Characters Have Adultitis.