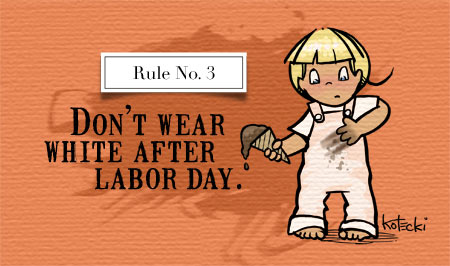 This is a real doozy. Break this rule, and the fashion police will hunt you down and dress you in a baby blue butterfly-collared leisure suit with matching neckerchief.
The so-called "rule" that one should never wear white after Labor Day has been with us for many years. Interestingly, even fashion world experts can't agree on where this rule came from — and yet many people still abide by it. Ridiculous!
One educated guess is that during the summer, people wear white clothing because it helps keep them cooler. Naturally, you don't want to mess up your nice white stuff with mud and slush in the fall and winter. Hence the helpful — albeit somewhat obvious — guideline.
More likely is the idea that back in the day (meaning early 20th century), most people that lived in cities wore dark-colored clothing. White linen suits and Panama hats became the unofficial look of the hoity-toities who escaped to the country for weekends of fun and leisure. Then older society families became concerned about the fashion etiquette of the "new rich," so they established a complex code of fashion rules to guide them. It was a way for the insiders to keep other people out, and a way for savvy outsiders to earn a ticket into polite society by proving they knew the rules.
Eventually, this no white after Labor Day statute became more ingrained in society. It was most heavily enforced in the 1950s and 1960s, but is still a big rule of thumb for many people today.
There is some debate as to the validity of this latter theory, but it makes the most sense to me. After all, pretty much every fashion rule is designed to label some as "in" and others as "out." (All the cool kids are wearing their jeans like this…)
Indeed, even Valerie Steele, director of the Museum at the Fashion Institute of Technology admits, "Very rarely is there actually a functional reason for a fashion rule."
Frankly, I don't think any of us should be listening to any fashion rules. It's a recipe to a future filled with some very awkward and embarrassing photos.
I don't care what decade you were in high school, no one would be caught dead in the stuff they were wearing in their yearbook photos. I think back to my middle and high school years, when girls flaunted foot-high walls of bangs cemented by six cans of Aquanet hairspray. And the bottoms of our jeans were rolled so tightly that they threatened to cut off the circulation in our legs. (I had several friends lose feet in the early 90s.)
The 80s alone gave us shoulder pads. T-shirts with the clip on the side. And neon. Lots and lots of neon.
Good call, fashion police.
Here's an iron-clad guarantee: the people who will look most ridiculous twenty years from now are pop stars and the people hosting shows like "What Not To Wear."
It all comes down to our flawed propensity to care about what other people think. One of the coolest things about kids is they don't give a hoot what other people think. If a little girl wants to wear a tutu and cowboy boots with her favorite green sweater to church on a summer day, that's what she'll wear. (Unless Mom makes her change because she's worried about what other people think.)
If you want to break free from Adultitis, don't worry so much about trends and fashion rules with questionable origins.
Just be yourself and wear what you want.
Because feeling comfortable in your own skin is one thing that never goes out of style.