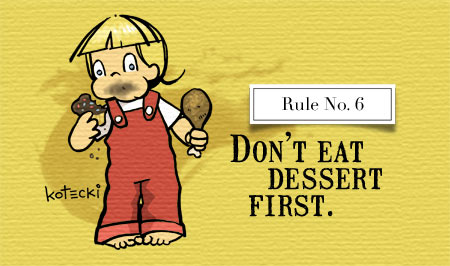 Pretend that you are five. And it's dinner time.
Now, if I were to ask you, "Would you like to have dessert first tonight?", what would your reaction be?
Kind of a no-brainer, right? You'd probably wonder if it was some sort of trick question because the answer would be so freaking obvious:
YES!
Kids are always looking to score a cookie before dinner or move on to cake before the carrots are consumed. But somewhere along the line, Mom, Dad, Grandma or Grandpa says, "No, you can't have dessert first. It'll spoil your dinner."
Drat.
Disgruntled, you make a little promise to yourself that when you get big, you'll eat dessert whenever and wherever you want. When you get big, you'll live by your own rules.
And yet.
The majority of people probably can't remember the last time they had dessert first.
Can you?
Kim and I went to The Olive Garden a few years ago, and in response to Escape Plan challenge #11, Kim ordered dessert first. The waitress had already written down my request for the manicotti with meat sauce, and began staring at Kim like she had lobsters coming out of her ears when she asked for the Chocolate Lasagna to arrive before her entrée.
The waitress was dumbstruck.
Every time she returned to our table to refill our breadsticks, she commented on Kim's decision. "I just can't believe you're ordering dessert first," she began. "It's just that, well, nobody does that! I've asked everybody in the back and they've never seen it either. I mean, people come in and just order dessert, but this, nobody does this! But you are…why?"
Kim simply said, "Because I can."
Exactly.
This is a perfect example of a rule we don't dare break, even though the consequences for doing so are zip. Zilch. Zero. Maybe we are afraid that the waitress will say no or think we're weird. Or that Mom will jump out from behind a plant and tell us to act our age, embarrassing us in front of everybody.
Or perhaps we are so riddled with Adultitis that our inner child can't even be heard anymore.
We have been programmed with rules from a very early age, mostly by well-intentioned adults, but also by some nefarious ones as well. Some of the rules still serve us well (like "be kind to others.") But many of them are outdated or irrelevant. (Don't wear white after Labor Day!) And most have gone unquestioned by Adultitis-ridden minds on autopilot.
Am I saying that we should all eat dessert first for every meal? No, of course not. But what I am saying is, why not do it once in a while? (You know you want to!)
But the fact that we are so hesitant to even consider having our cake and eating it first points to an even bigger question:
What other rules are you unnecessarily living by?