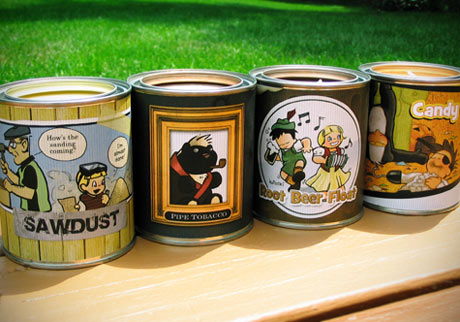 Does it make me any less of a man if I say that I love scented candles (especially fruity ones)?
Don't answer that.
It's true, though. I really DO like scented candles. But only certain kinds. I'll pass on vanilla and anything that's supposed to smell like flowers but actually smells more like an old lady who wears fake nails and applies makeup with a trowel.
And sometimes I get turned off by the names that try too hard, especially the ones that remind me of farts, like Subtle Breeze or Broken Wind.
Most of all, I like the ones that smell like my childhood.
Our line of Kim & Jason candles reflect the notion that smell is the sense most connected to our memories. (I guarantee that one sniff of your old elementary school would instantly get you thinking about multiplication tables and whether or not Casey "liked you liked you.") That being said, we have some pretty interesting aromas that Martha Stewart might find shocking and inappropriate. Dirt, Fresh Cut Grass, and Clean Underpants, to name a few.
This fall, we've added four new scents to our lineup. Hand-poured in Montana, our soy candles feature labels that are designed and illustrated by yours truly and boast a long lasting fresh scent, with a burn time of 160 hours. All in a nifty 16-ounce steel paint can for a classically retro feel. Here's a rundown of the new arrivals:
Sawdust
If you spent any time as a "little helper" in a woodworking shop (or if you have a shop to call your own), you'll love this sawdust scented candle. Get your foo foo flowery melonfruit candle elsewhere – this one is for the hard core fans of fresh cut wood.
Root Beer Float
This candle is just like a creamy root beer float in a tall frosty mug – without the calories. (Score!) It's a rich and smooth scent guaranteed to get you back to childhood.
Candy Corn
This little number candle harkens back to Halloween past, when you dressed up in cool costumes and gorged on candy. The subtle aroma of candy corn might just have you itching to grab the pillow case for another run around the neighborhood.
Pipe Tobacco
Back in the day, the man of the house often relaxed by smoking a pipe. This candle allows you to bask in the awesome aroma of pipe tobacco without having to actually pollute the house. (And it features Stinky.) Now that's cool.
So if candles float your boat, be sure the check out our full selection. These tiny time machines make great gifts.
By the way, what smell most reminds YOU of childhood?