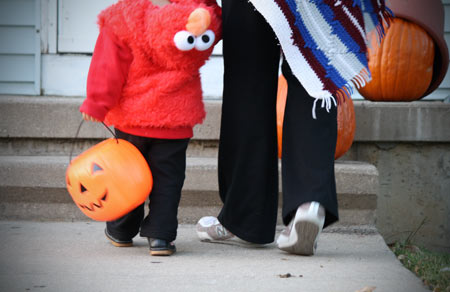 Halloween has come and gone. After bribing Lucy with M&M's (her new favorite treat), she DID put on her Elmo costume long enough to get a plastic pumpkin half-full of candy. Victory!
Last year the three of us donned themed costumes. (Frankenstein, the Bride of Frankenstein and their pet skunk… um, yeah. I know… go with it.) So, a while back as October 31st drew closer, Jason and I started chatting about THIS year's theme. With an almost two-year-old, a major consideration was what we could actually convince her to wear. Considering "no" is her favoritest of words, we knew we'd have to pick something really fascinating to get her to actually put it on.
We tossed around idea after idea. Most were followed with the infamous roadblock: "Yeah, but." Dead ends led to frustration. A few ideas that seemed fun became far too complicated and detail driven. With October being one of our fullest months for speaking programs, the last thing we wanted to do on our time off was run errands all around town putting this together. (Side note: Jason and I despise errands. I'm still waiting for a drive-through Wal-Mart or Target.)
In a "Come to Jesus Moment" one morning about a week before Halloween, we both realized something. We still had no costumes and this "fun" idea of having a theme had transformed into a source of stress. Yuck. What's the point?!
When your source for fun becomes stressful, it's time to re-evaluate.
And I'm so glad we did.
We asked ourselves WHY are we trying to do themed costumes? Answer: It would be fun.
And why was the planning not fun anymore? Answer: Too much thinking, not much time, and the lack of interest to invest evening hours running errands.
So, we decided to take our own advice and found a way to do this with less stress and more fun — we simplified things. We took one evening and had a fun family shopping outing to find something fun we'd each enjoy individually, with no pressure of a theme.
I LOVED my friend's comment on our family photo on Facebook:
"The old 'Mexican-Pirate-Elmo' costume. You are probably the only people in the country to have that combo."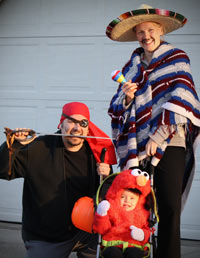 Yep, he's right. And I'll tell ya… it was fun AND stress-free.
Jason has always wanted to be a pirate. I LOVED the idea of wearing a fun hat, a little face paint, and being able to stay warm under a blanket during our chilly Wisconsin trick-or-treat neighborhood parade.
Since Lucy LOVES Elmo right now, we were magically (magic = M&M's) able to get her to put on her costume without tears. (Tears on Halloween = missing the point)
Do you find yourself stressed out by your efforts to have fun?
What sources for fun have you found to be stress-free?
How can you skip the stress and still enjoy the fun?