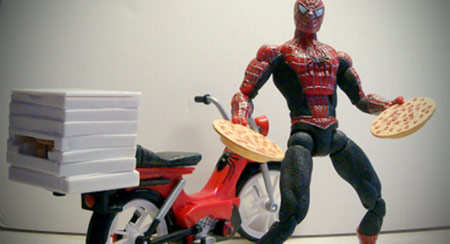 Small rebellions rule. They really are the most effective way to beat Adultitis.
And they are so ridiculously simple.
Pretty much my favorite thing in the world these days is getting an email, a blog comment, or an anecdote at the end of one of my speaking programs from someone who shares an example of a small rebellion they have participated in. Most of the time, they don't even realize they've done it, because the effort was pretty minimal. But the result is monumental.
And best of all, Adultitis gets its panties all up in a bunch.
Check out this awesome comment I got from Neil:
Two years ago, our ninth wedding anniversary fell on a Wednesday. In the middle of summer. We have two young sons, I was laid off from my job and we had no plans to go out.

But I thought, if we don't use the fancy china and eat in the dining room tonight, when will we? If we're waiting for a special occasion, this is gonna be it!

So when my wife got home from work — the blinds were drawn, all the candles were lit and the table looked like a million bucks. Then she looked around, sniffed and wondered where the food was.

"Ding dong." Pizza delivery! But since her favorite is Pizza Hut and I like Papa John's … I splurged and ordered one of each! We wondered what Grandma would think if she knew we were eating pizza from a box on her fine china, but I like to think she'd understand. Breaking those unwritten rules made the whole evening really special and memorable for all of us.

Now whenever our neighbors see a pizza delivery car at our house … they look for the second one to show up, too!
Okay, now this little story is just packed with small rebellions. Did you catch them all?

First of all, consider the fact that Neil was laid off from his job. Conventional wisdom dictates that you pinch every penny, making even something as pedestrian as pizza delivery an extravagance not to be splurged on. And getting two different pizzas from two different places — double the tip! — is downright "shameful."
On the flip side, conventional wisdom also says that in order to make something like an anniversary truly memorable, you have to spend a lot of money. (Like way more than the cost of a few pizzas.) Au contraire. A little sincere effort beats thoughtless spending every time. Most women I know would melt at the sight of a candlelight dinner waiting for them when they got home from a long day of work.
Now, back to the two pizzas from two different places thing. Who does that? Nobody! Which is what makes it a perfect small rebellion. Is it more expensive? Less efficient? A completely awesome thing to do once in a while to mix things up or make a statement to show someone how much you care? Yes, yes, and yes.
Finally, eating "lowly" pizza on Grandma's fine china is yet another small rebellion. Trust me, those plates were thrilled to be out of that suffocating old china cabinet. Even though we act like it, there is no rule that says that the only stuff that can grace the "good stuff" is fancy food that no one can pronounce and portioned too small to satisfy a grasshopper.
I don't care if you're eating pizza, peanut butter & jelly, or macaroni & cheese, the real purpose of the fancy china is to let the dinner guests know that they're special to you.
And if your parents, your kids, or your wife of nine years doesn't fit that bill, I don't know who does.
Nicely done, Neil.
What small rebellion have you witnessed or initiated recently?