Kim and I have had a blast seeing all the contributions to Project Pancake, our first officially organized small rebellion. Check out the stories and photos here (and feel free to add your own!)
I didn't know exactly what we would do in our household, but I did know that it would include the new Star Wars pancake molds I got for Christmas. That would be unique!
Well, I thought it would be, until I saw the pancake picture posted by Mark Tipperreiter a few days earlier. Apparently, Santa visits other houses besides just mine. Here's Mark's picture, featuring a Stormtrooper, Darth Vader, and Yoda. (Notice how you can actually tell what they are.) Clearly, the Force is strong with him. I assumed it would be with me as well.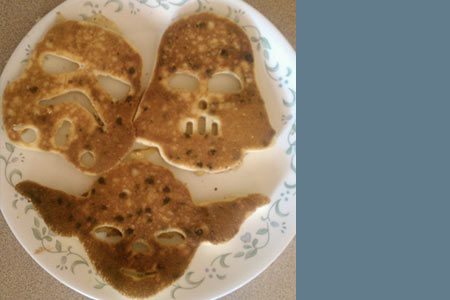 I'll admit I was a little bummed that my plan had been sapped of a little of its originality. But I reminded myself that it's not a contest and I was equally excited to try out a new recipe I found at Seriouseats.com. Dubbed the "Best Silver Dollar Pancakes Ever," they were promised to be "so light they practically levitate over the plate they're put on." Just like the X-Wing Fighter being lifted out of the Dagobah swamp. I want that.
Keep in mind, I have never made pancakes before. Ever. Not even out of a box. And the thought of putting that much sour cream (and no buttermilk) in my pancakes concerned me a bit. Here's the recipe:
The Best Silver Dollar Pancakes Ever

INGREDIENTS
4 eggs
1/2 teaspoon salt
1/2 teaspoon baking soda
1/4 cup cake flour
2 cups sour cream
3 tablespoons sugar

PROCEDURES
1) Put the eggs in a mixing bowl and stir until well blended.

2) Add the salt, baking soda, flour, sour cream, and sugar, and mix well. A blender works fine for this step.

3) Heat a griddle or frying pan until it is good and hot, film with grease, and drop spoonfuls of batter onto the griddle–just enough to spread to an approximately 2 1/2-inch round. When a few bubbles form on top of the pancakes, turn them over and cook briefly, no longer than 45 seconds.

4) Serve with warm butter and warm syrup. Try not to eat them all.
Kim laughed when I told her my plan. "What?" I asked.
"Well," she began, "You've never made pancakes before and you're starting with a new recipe and molds you've never used? Typical Kotecki."
"What could go wrong?" I asked, in a manner that sounded eerily like my father.
Things started out ok…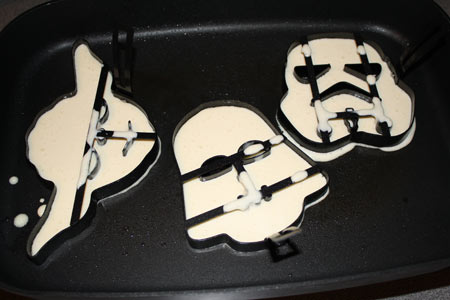 But it didn't take long before my podracer veered wildly off course.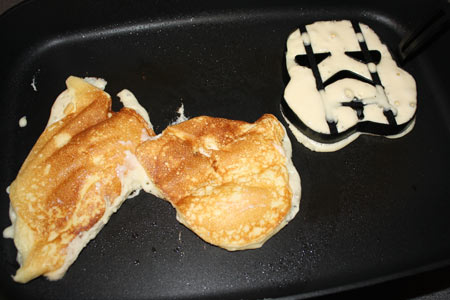 Disappointed but undaunted, I gave myself a break. It was my first time in the pancake rodeo. Nobody gets it perfect right off the bat. I figured the Stormtrooper would come out better.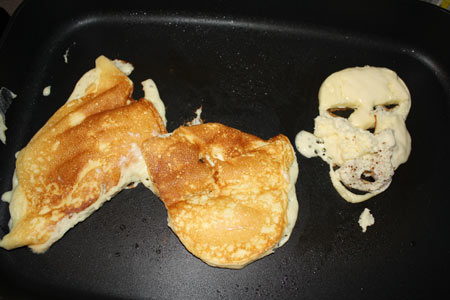 Nope.
I decided to step back a bit and try my hand at some normal, rounded, non-Sith-cursed pancakes.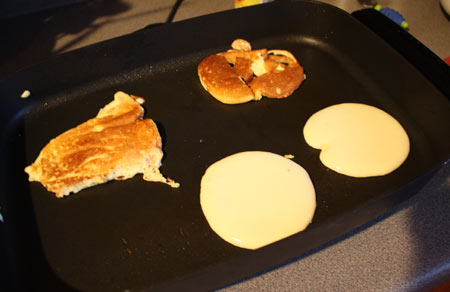 Which actually turned out pretty good. I started to get the hang of spotting the bubbles and knowing when to flip them over.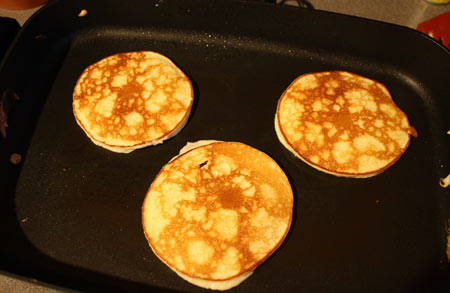 With my confidence growing, I realized that with a little nudge of the spatula, I could call upon my vast artistic skills to create a licensed character after all…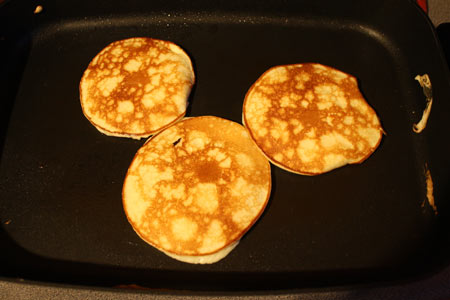 Mickey Mouse!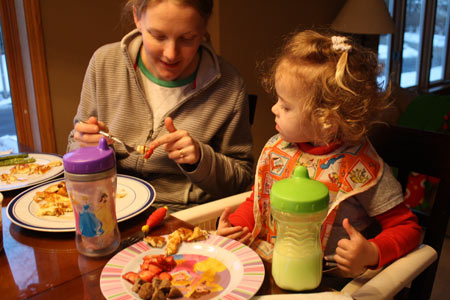 And finally, here's Kim trying to convince Lucy that not only is the mangled mess Daddy created actual pancakes, but they are also edible.
Maybe I did try to bite off more than I could chew. Perhaps there's a scientific explanation having to do with the sour cream that made things more difficult? Did I put too much batter in the mold? Or not grease them up enough? Did I make some rookie mistakes? (No, can't be that…)
Although not necessarily visually appealing, they were unbelievably delicious…and light. And all in all, we had fun, which was the point. It was definitely a break in our routine, and an interesting new twist on pancakes in the Kotecki household.
We're gonna keep doing these weekly small rebellions and see how they go. If you want to make sure you're the first to know about them, be sure to "Like" our page on Facebook and sign up to become a Kim & Jason Insider to receive our brief weekly dispatches.
Join us in the crusade against Adultitis. And may the Force be with you.