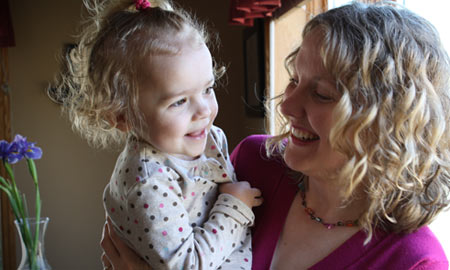 I sat in the chair watching 5 inches of my hair hit the ground, and thankfully, I instantly knew I was making the right decision. I wasn't sure earlier that day as we drove there. Was I going to cry? (Yes, that HAS happened to me before — not a good day.) Change can be exhilarating and terrifying all at the same time. Those two emotions can manifest tears or joyful feelings of freedom.
Sometimes you just don't know until you do it.
A few years ago, on this very blog, I shared in one of those cheesy and ever-popular "5 Things You May Not Know About Me" posts that I was growing my hair out to model after a male musician, Phil Joel.
Always being a middle to short-haired gal, this was a big deal in my corner of the universe. Four years passed and my hair was fun… until Lucy came around. I found myself unable to realistically spend 20 minutes styling, curling and maintaining the look on a daily basis. That twenty minutes of "me time" was usually spent showering — on a good day. So, pony tails were the solution. As you can imagine, after two years of scrunchies, I found myself in quite the funk, weighed down by the boringness of the ever-easy and blah pony tail.
So, this "adventure" (my word for the year) was worth the risk.
When I was chatting it up with the hairdresser, she mentioned that it's important for people to get a "new look" every five years. It keeps them fresh.
And fresh I feel!
As Jason and I talked about it later that night, we realized that the "five year rule" for freshness can apply to many areas of your life, not just your "look."
What have you been doing the SAME WAY for the last five years (or more)… in your marriage, with your wardrobe, during your commute, on the weekends, with your extended family, in your morning routine, with your kids?
Take the advice of my hairdresser and spend a little time freshening up some area of your life. The joyful feelings of freedom will be an awesome payoff.
What's something you've recently changed that has you feeling fresh and renewed?