We've never done one of these fancy limited-time only Internet sales before, so I'm not really sure what to write. I'm sure my headline could probably be better, I should probably be using some special hypnotic language sprinkled throughout this post, and I should probably be pretty liberal with my virtual yellow highlighter.
Whatever.
Perhaps I should just tell you what happened.
A little while back, my friend Adam and his friend Karol put together a package of lots of digital products made by top bloggers and authors. They priced it super low and only offered it for 72 hours. People thought it was a killer deal and bought a lot of them.
Adam emailed me and told me they wanted to do another one, and that he wanted to include The Kim & Jason Guide to Cheap Family Fun. They wanted something more for families, he said.
That's cool, I said.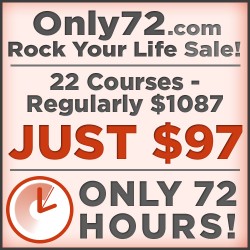 Flash forward to today. The new sale is already underway, featuring over 20 products worth over $1,000. They're charging just $97, but it ends for good on Thursday, June 23 at Noon Eastern. I can't vouch for everything that's included, but the people I do know are wicked smart and put out good stuff.
Kim and I met Leo Babauta at the World Domination Summit in Portland and had a nice conversation with him. He's the real deal. Charlie Gilkey and Steve Kamb are also cool. We've mentioned Adam's "Sell Your Crap" guide before, and I can't say enough good things about it.
We continue to get great feedback about our Cheap Family Fun video series, which currently sells for $47 by itself. With this special sale, you get THAT plus a ton of other tools to help you increase productivity, manage email stress, learn new languages, get fit, get rid of your clutter, and more.
So that's that. We do get a cut of each sale placed through the link below and $5 from each sale will be directly donated to The Kidney Foundation to support research and prevention of kidney disease! I figured it was a good enough deal to share with you. Check out the stuff that's included, and if it's for you, great. If not, that's cool too.
Here's a look at all the great stuff that's included:
Focus by Leo Babauta ($35)
The full version of the book, including bonus chapters, in PDF, EPUB, and AZW
An email fast guide (PDF)
A decluttering quickstart guide (PDF)
A guide to changing habits
3 Audio Interviews
5 videos
Momentum Kickstarter Kit by Charlie Gilkey ($47)
Living the Good Life (PDF)
Email Triage (PDF)
Premium Planners Set
Reclaim Your Dreams by Jonathan Mead ($47)
Reclaim Your Dreams – "Everything Package" (70-page PDF)
"I'm Serious About Action" Worksheets (30-page PDF)
52 Weeks to Awesome by Pace & Kyeli ($52)
52 emails, each with a tidbit to learn and a mission to accomplish
A 128-page workbook (PDF)
Pace & Kyeli's best-kept secret to living an awesome life
5 Ingredients | 10 Minutes by Jules Clancy ($77)
133 totally NEW 5-ingredients recipes
Colour photographs of every recipe (343 pages)
50 videos
Rebel Fitness Guide by Steve Kamb ($37)
Rebel Fitness Guide (40-page PDF)
Rebel Diet Guide (35-page PDF)
Rebel Food Fighter (60-page PDF)
6 Separate Workout Exercise Books
Fear-Crushing Travel Guide by Farnoosh Brock ($47)
Fear-Crushing Travel Guide (113-page PDF)
7 Fear-Crushing Travel Worksheets
10 Audio Interviews with experienced world travelers
Bonus: The Master Travel Preparation Tip Sheet
Overcoming the Fear of Uncertainty by Sean Ogle ($47)
Overcoming The Fear of Uncertainty Guide (15,000 words)
Using Mint.com to Change Your Life (7,000 words)
Ultimate Guide to Starting a Blog
5 Interviews, including Chris Guillebeau and Pam Slim
Worksheets, review sheets, questions, answers, and a remote work agreement template
The Creativity Toolbox by Ali Luke & Thursday Bram ($47)
Mapping Your Project: The Big Picture and the Details (22-page PDF)
Game Plan: Spark to Business (36-page PDF)
Balancing Life and creativity (26-page PDF)
7 interviews
Resource Directory
65 Jump-leads for your creativity
Make Sh*t Happen by Jenny Blake ($47)
Make Sh*t Happen (80-page PDF)
Workbook of all exercises (Google Docs)
The Language Hacking Guide by Benny Lewis ($67)
Language Hacking Guide in PDF, ePub, Mobi, and printer-friendly
Full translationss of the guide in 23 different languages
Worksheets, also translated
Almost 3 hours of audio interviews
Lists of free resources for practicing any language
Learn More, Study Less by Scott Young ($67)
Learn More, Study Less (200+-page PDF)
6 bonus printable workheets
A Daring Adventure collection by Tim Brownson ($47)
How to be Rich and Happy (215-page PDF)
Don't Ask Stupid Questions (94-page PDF)
Don't Panic! A Practical Guide to Dealing with Fear, Anxiety, Panic & Public Speaking (45-page pdf)
16 Ways to Destress Your Life (34-page pdf)
The Less Work, More Harmony Relationship Guide by Cara Stein ($47)
25 PDf modules (96 pages, 38,000+ words)
Better Communication Workshop
Brilliantly Better Collection by Dragos Roua ($43)
Natural Productivity (156-page PDF)
100 Ways to screw up your life (109-page PDF)
100 Ways to improve your life (108-page PDF)
30 Sentences for a millionaire mindset (96-page PDF)
How to Become an Advanced Early Riser by Steve Aitchenson ($37)
How to Become An Advanced Early Riser (66-page PDF)
Success Log to track your progress
4 MP3 audio downloads
Quick start guides
Cheap Family Fun by Kim & Jason ($47)
52 weekly emails of ideas for free or very cheap fun
52 short, entertaining videos
The Art of Relaxed Productivity + The Power of Positivity by Henrik Edberg ($44)
The Art of Relaxed Productivity (98-page PDF)
The Power of Positivity (132-page PDF)
Quick Start To Relaxed Productivity Audio Guide (MP3) + 5 more audio files
The Ultimate Guide to Motivation
2 Workbooks
Audio Transcripts
Discover Package by Barrie Davenport ($59)
Discover Your Passion (116-page PDF)
The Bold Living Guide (46-page PDF)
Coaching Works (10-page PDF)
Life 101 Master Course (9-page PDF)
Mind Control Method: How to Get What You Want by Karol Gajda ($47)
Mind Control Method (37-page PDF)
5 MP3 audios
Sell Your Crap by Adam Baker ($47)
Sell Your Crap (67-page main guide PDF)
The Definitive Step-by-Step Guide to Selling Your Crap on eBay (171-page PDF)
The Definitive Step-by-Step Guide to Selling Your Crap on CraigsList (49-page PDF)
The Definitive Step-by-Step Guide to Selling Your Crap on Amazon (41-page PDF)
10 Video Interviews with Anti-Clutter authors and bloggers, including Leo Babauta, Chris Guillebeau, and J.D. Roth