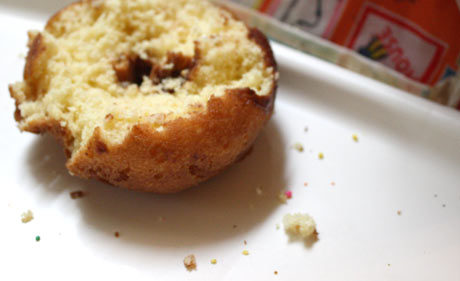 This is what a doughnut with chocolate frosting and sprinkles looks like when my daughter Lucy is done eating it.
I've never seen an adult eat a doughnut like this.
Clearly, she doesn't know the proper way to eat a doughnut. Yet. One more thing we're gonna have to teach her, I thought as I snapped this photo.
Funny thing, though.
The doughnut police didn't break down the doors and take away her doughnut eating license for "doing it wrong."
Sometimes I ask the audiences I speak to for examples of rules they live by that don't actually exist. I've never had anyone raise their hand and say, "You know, I don't know why I do it, but I always eat the whole doughnut even though sometimes I really just want to eat the frosting and sprinkles."
Instead, I oftentimes just get silence. People have trouble coming up with rules that don't exist. That's because we don't even know we're living by them; they're hard-wired in to the minutia of our everyday life.
Lucy's doughnut makes me think that the actual number of these rules might be well into the millions.
Will you notice any today in your life?