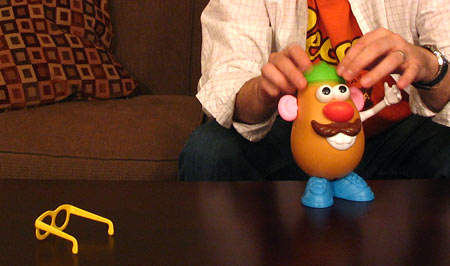 When I go to conferences, I always feel like I'm doing them wrong.
You see, I'm an introvert. And since 75% of the population is extroverted, the world is pretty much geared towards extroverts. Conferences included.
I love learning new things. I love meeting new people. But it takes me a while to process the new things I learn and I have a hard time approaching those new people. So most of the time I'm at a conference, I feel like I'm inadequate, subpar, and broken. I sit there arguing with the little voice inside my head that says, "You should be trying to meet more people. You're missing out on opportunities that could be good for you and your business. You spent a lot of money on this conference and you're letting these opportunities slip away."
Ugh.
For some of you, when I mention the word "introvert," socially awkward wallflowers may come to mind. For those unaware, being introverted doesn't just mean that you're shy. A quick primer:
Introverts get energized from being alone. Extroverts get energized by being with people. (This doesn't mean that introverts don't like being with people or that extroverts don't like being alone.)
Introverts tend to process ideas and new information internally. Extroverts process ideas and information out loud.
At a party, introverts would prefer to have deeper conversations with a small handful of people. Extroverts would rather connect with as many people as possible, even if that means the conversations are shorter.
Perhaps now you can see how a conference setting can make an introvert feel terribly lacking and inferior.
People are often shocked to hear that I'm an introvert. (I speak in public for a living, after all!) But again, although I am on the shy side, I love speaking. I love being around people. It's just that it requires an awful lot of energy, and after a long day of speaking, I need to crash. Hard.
So midway through The World Domination Summit in Portland, I was feeling pretty low. I was excited to be there and pumped with all that I was getting out of it, but that stupid little voice kept reminding me how many opportunities I was squandering by not being more outgoing. Everyone else was mingling like mad, with seemingly endless energy, while I became increasingly depleted.
Finally, after being verbally assaulted by this little voice for way too long, I summoned up the courage and…meekly shared my fears with Kim.
One of my biggest blessings is that I'm married to an introvert. (Yes, that bubbly outgoing spirit known as Kim is also an introvert!) That makes things nice, as we're better able to relate to — and commiserate with — one another.
After chatting with Kim, she confirmed that I was not in fact broken, I was just an introvert.
Oh, right. I knew that.
But even though I knew it, I needed to be reminded. And affirmed.
We all do every once in a while.
So from then on, I cut myself a break. I gave myself permission to be myself. First off, Kim and I decided to skip the social tours that were scheduled for the end of the first day. We were fried. Like Popeye's chicken. Instead we went for dinner — just the two of us. And it was glorious. We had a long conversation about all the great things we pulled out of the day's speakers and how they applied to our lives.
I also gave myself permission to let meetings with people happen serendipitously. Which I love, and is easy for me to do. I realized that yes, there might be people I don't get a chance to meet, but even the most prolific extroverts won't get a chance to meet 500 people in just two days. Pretending like I could and trying to pull it off would be an impossible challenge that would leave me ragefully exhausted.
And so we got a chance to chat with Leo as we bumped into him on our way to lunch.
I had a nice conversation with Matt, who was boarding the afterparty bus at the same time as me.
We met Rick, who happened to be having lunch with some friends we already knew, and who is going to be helping us with some online marketing.
A meeting with David reminded me that our supposed flaws are actually strengths. My introversion may not be conducive for endless networking, but it does allow me to come up with some pretty great, fully formed ideas while making connections many people miss.
[ Side note: Interestingly, David was one of the many people we met who had been at the workshops Kim and I presented. One of the coolest things about being an introverted speaker is that after you talk, people initiate conversations with YOU. And you already have something in common with them: they like you, and you like you, too :) ]
What I was reminded of, hopefully once and for all (but probably not), is that it's ok to cut yourself some slack once in a while. Be you. I don't know why we are so insistent on comparing ourselves with other people. I do it more than I'd like to admit.
I took great solace in something Karen Walrond said during her keynote address:
"Making comparisons is a colossal waste of time, because you're comparing your insides with someone else's outsides."
Dang. Guilty as charged. You?
Things seem to work out best when we give ourselves permission to let our outsides match our insides.
Nothing broken about that.