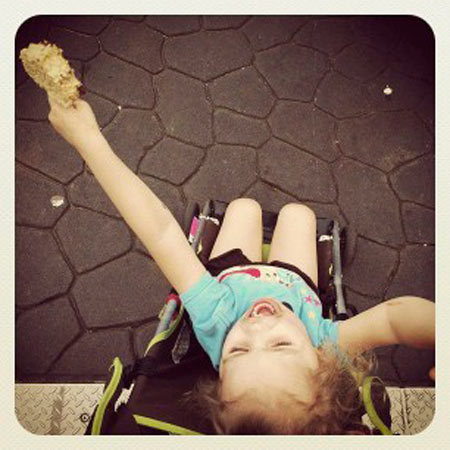 My word for 2012 has been "magic." No, I have not been learning any card tricks, but rather the goal has been to infuse more magic into the lives of people I touch. One thing that has struck me time and again is that it doesn't have to cost a lot of effort or money. Like many things, whether it's creating more magic, making more scenes with your family, or spicing up a marriage, all you really need is the desire and a tiny bit of imagination.
For instance, I decided not to give Kim one card for her birthday a few weeks ago but four. I put a different message in each one and strategically hid them so she'd find them one at a time throughout the day. Sure, it cost a little more to buy four cards, but the magic that was created far exceeded the cost. As I've often said in promoting The Kim & Jason Guide to Cheap Family Fun, just about everybody wants to create more memories with their families, but sometimes we need reminders and ideas.
I've got both for you this week.
I recently had lunch with Scott Meier who is the purveyor of the awesome Daddy Daughter Date blog. He told me about his family's recent trip to Disney World, in which he and his wife waited to tell their daughters where they were going until they got to the airport. Then, a few days later, at a conference I was speaking at in Michigan, a woman told me that her son-in-law did the same thing with his kids for a trip to New York City. He arranged everything in advance, down to booking the tour of the Statue of Liberty and securing Broadway tickets, as well as the secret finagling with the kids' teachers to notify them of their absence from school. Then one day, with the car fully packed, the parents picked up the kids at school. The kids were under the impression that they were simply driving Dad to the airport for a business trip. Once they arrived at the airport, the surprise was revealed. How awesome is that?
Come to think of it, you could make every vacation with children a surprise. After all, you don't often need their permission, their help in planning, or for them pony up a credit card number. Plus you'd be free from having to deal with the endless daily barrage from younger children asking, "Are we going today?"
Here's the thing: everybody loves surprises (the happy ones, not the we-have-to-let-you-go-effective-immediately kind), and this is a simple (albeit not always easy) one to implement. Now some of you may be thinking, "Well I don't have the money to spring for a trip to Disney World or New York." Not the point. You can accomplish the same thing with a surprise day of hooky from school, an out-of-the-blue visit to a special restaurant, or an unexpected Barbarian Spaghetti feast.
Oh, and another woman in Michigan reminded me that you don't even have to have kids, either. She retold a surprise weekend getaway her husband planned for the two of them. "He even took the liberty to pack my suitcase," she said. "And although he did a less-than-stellar job, the sentiment and the surprise more than made up for it."
Start making plans today to surprise someone special in your life with a secret trip or evening out. It's a great way to add magic to life!