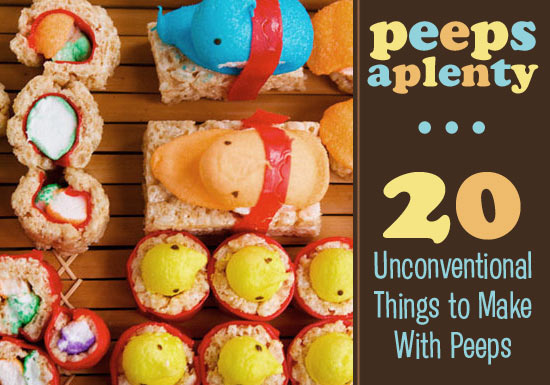 When it comes to Peeps, our house is divided. Kim is not a fan, but I have a marshmallowy soft spot in my heart for them. Even though I can't eat as many of them as I used to, they still provide me nostalgic memories of my childhood when I'd eat them by the pound. (Which has to be a lot, right?)
Peeps make some people happy. They make other people sick.
But love 'em or hate 'em, there are a surprising amount of things you can make WITH them, from the edible to the decorative. Here are our favorites.
Make Peeps Krispie Treats
We'll start things off with things you can actually eat. Sure, you can eat Peeps right out of the package, but that's so passé. Why not try making Rice Krispie Treats with Peeps as the marshmallows?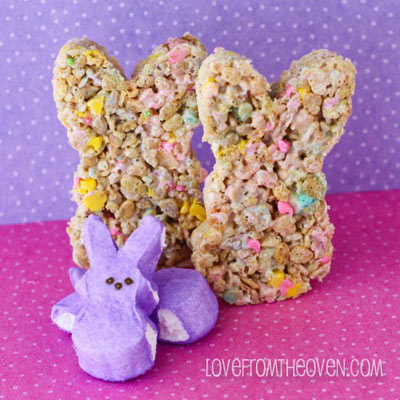 Source: Love From The Oven
Make Peep Kabobs
You could also incorporate Rice Krispie Treats into this sugar coma on a stick. With Peeps and sprinkle-covered cupcakes thrown in for good measure, you've got a treat tailor-made for Homer Simpson.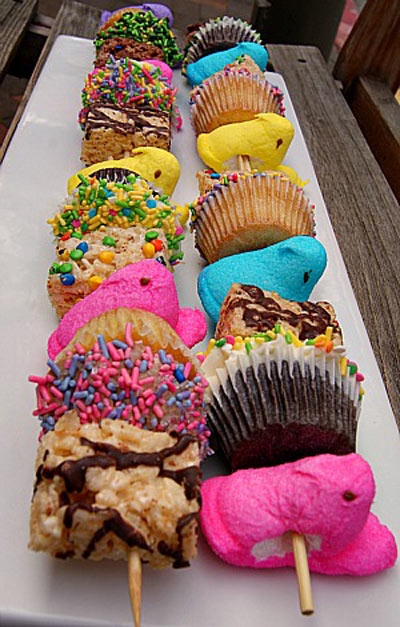 Source: WarningSugaryGoodness.com
Make Peeps Sushi
For the more sophisticated types, you can't go wrong with Peepshi. They're cute and colorful, without that fishy taste.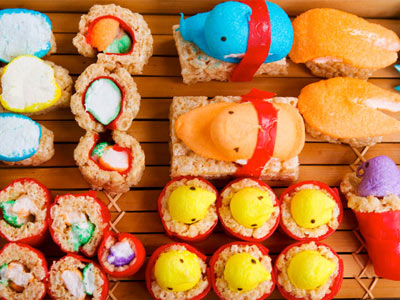 Source: Serious Eats
Make Peeps Pretzel Rods
Moving on to ideas that involve dipping something sweet into something even sweeter, I give you Peeps on pretzel rods. The saltiness helps break up the flash mob of sugar.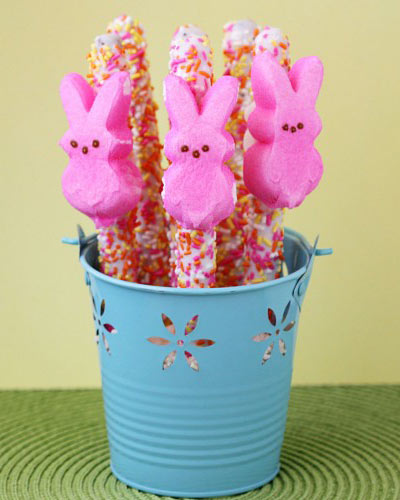 Source: Love From the Oven
Make Chocolate Peeps on a Stick
Jam a stick up a Peep's butt and dip him in chocolate. Don't worry, it tastes better than it sounds.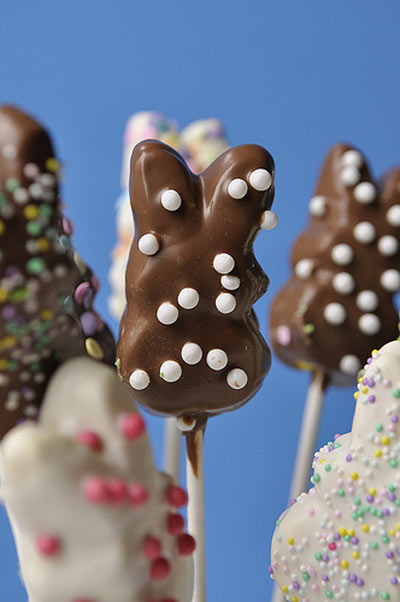 Source: Your Homebased Mom
Make Candy Covered Peeps
If the stick idea above was just a bit too violent for your tastes, this may be a good alternative.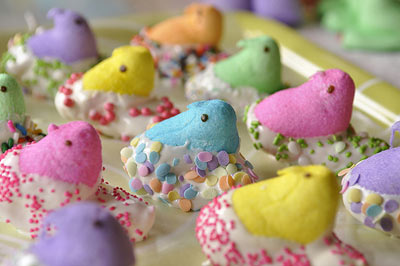 Source: Your Homebased Mom
Make Peeps Fondue
If you're having a party, give your guests the option of what to dip their Peeps in. If you think that sounds dirty, then you will not like the fact that you'll most definitely have to bring the sticks back out for this one.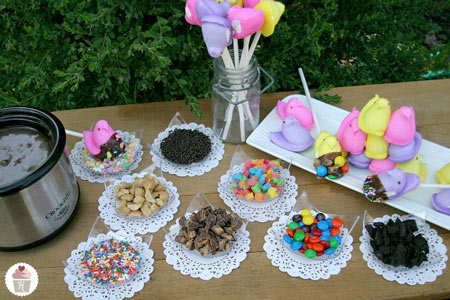 Source: Hoosier Homemade
Make Tuxedo Peeps
If you're trying to keep things classy, make sure your Peeps are dressed for the occasion.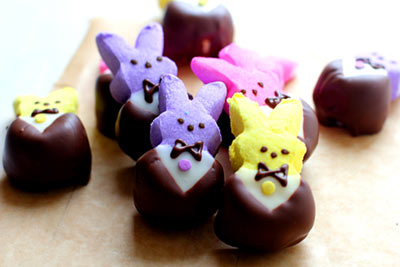 Source: Babble
Make Peep Smores
Of course, Peeps are a great way to transform classic smores into something even more festive.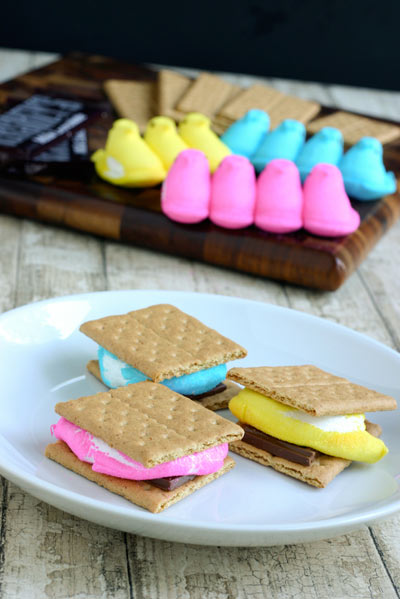 Source: Eclecticrecipes.com
Make a Peeps Fluffernutter Sandwich
Stick one of these in your kid's lunch bag and then clear a place on the mantle for your Parent of the Year award.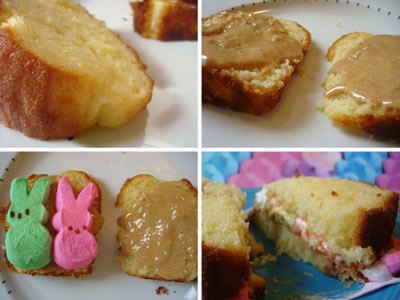 Source: Serious Eats
Make a Peeps Cake
If you think your cake could use even more sugar, why not cover it with an airtight coating of Peeps and M&Ms? Makes sense to us.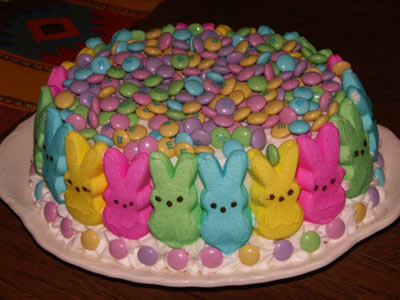 Source: Cake Central
Or, you can bake your Peeps right into the cake itself: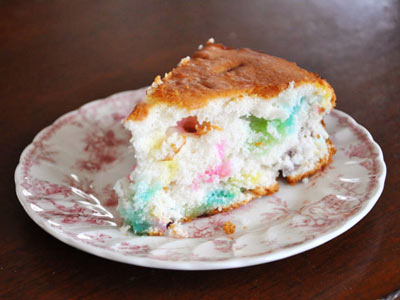 Source: SeriousEats
Make a Peepza
Simply make a regular plain pizza, pull it from the oven about a minute from done, top it with Peeps, and then cook another minute more. According to Adam, the Peepza's originator, "It actually doesn't taste as bad as you might think. You know that whole salty-sweet dynamic that we all tend to love so much? Peepza has it in spades."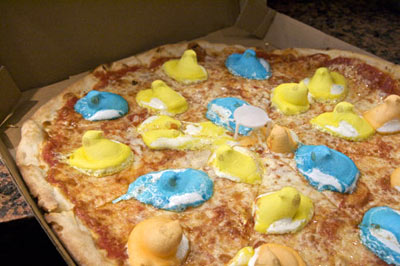 Source: Serious Eats
Make Deep-Fried Peeps
Sometimes in life, there are no words. This is one of those times.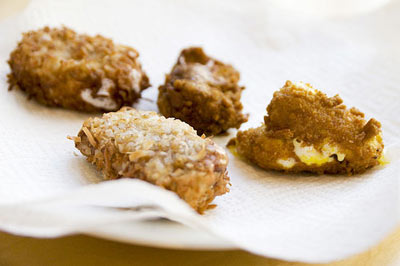 Source: Serious Eats
You may want to wash your Peeps meal down with a cocktail:
* 1 1/2 ounces Cherry Vodka
* 1/2 ounce Triple Sec
* 3 ounces Half and Half or Milk
* Dash Grenadine
Shake with ice until chilled. Pour into decorated glasses (rimmed with dyed green coconut flakes and adorned with a Peep) and serve.
Source: Feast of Fun
Ok, I promised the non-Peep eaters a few things you can do with Peeps besides stuffing them into your mouth. Here we go…
Make a Peep Flower Bouquet
Your imagination can run wild dreaming up flower and color combinations to make a stunning Peeps centerpiece.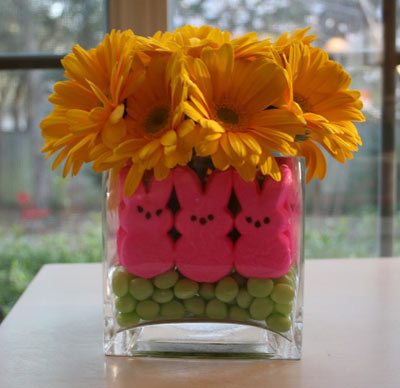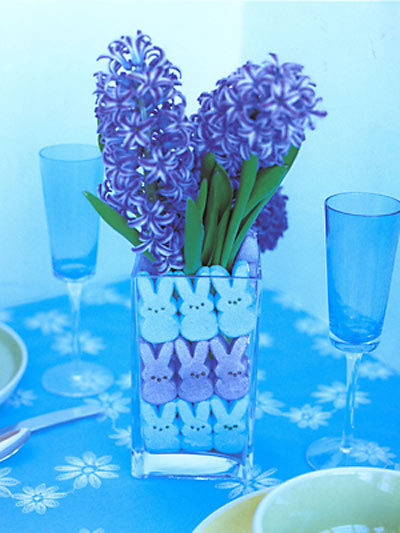 Source: The Nest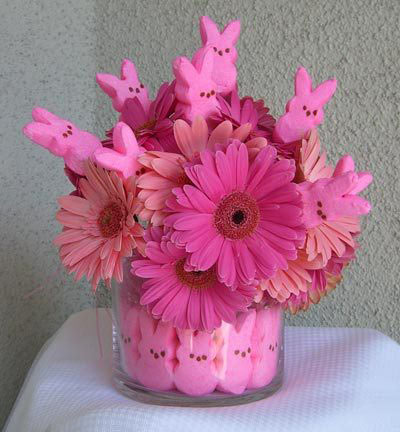 Source: Flower Duet
Make a Peeps Wreath
Or turn all those Peeps into a colorful Easter wreath. I wonder if this would also make a good life preserver?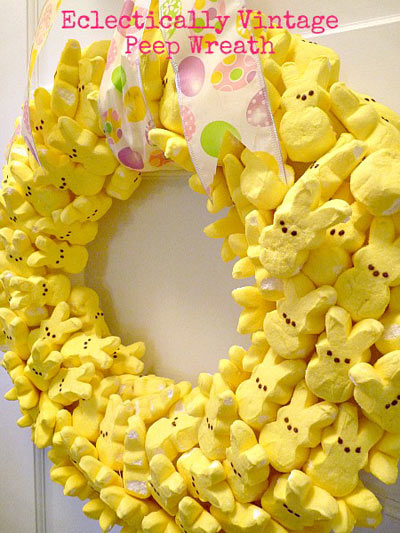 Source: Eclecticallyvintage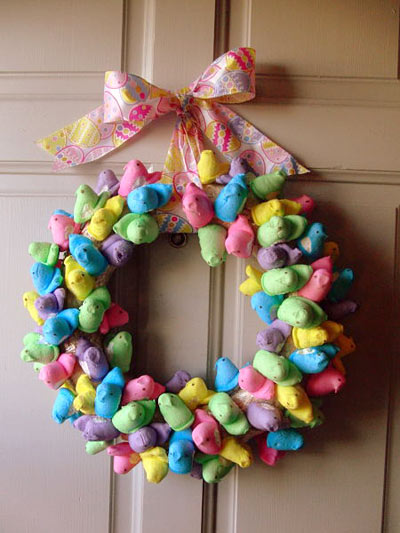 Source: TaLooLaKids
Make Peeps Art
Like a mosaic but with Peeps. Andy Warhol would be proud.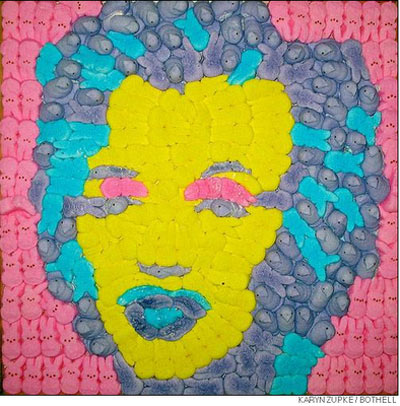 Source: 8balloons.com
Make a Peeps Necklace
Technically you don't have to eat this whimsical jewelry, but I bet it will be a challenge not to.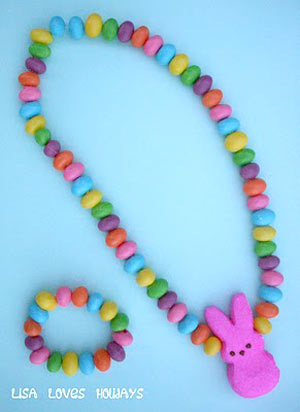 Source: Lisa Loves Holidays
Make a Peeps Diorama
For the uber-creative types out there, this is definitely the way to go. This ridiculously awesome diorama based on the Pixar movie Up was one of the winners of the annual Washington Post Peeps Diorama Contest. You can see pages and pages of inspiring entries here.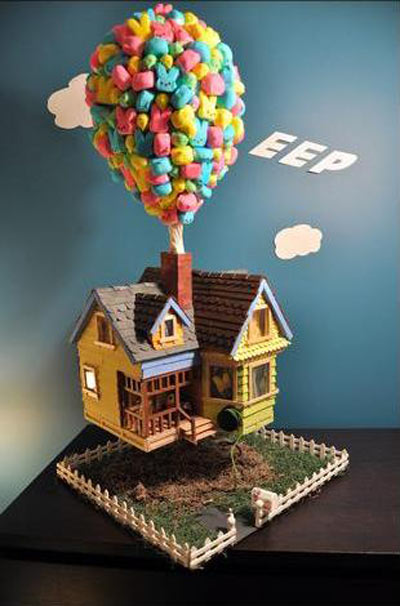 Hopefully this post served as sweet bit of inspiration to do something fun with Peeps. We'd love to know, how do you feel about Peeps?
Peeps: Yummy Treat or Culinary Disaster?
Yummy Treat (54%, 26 Votes)
Culinary Disaster (46%, 22 Votes)
Total Voters: 48

Loading ...