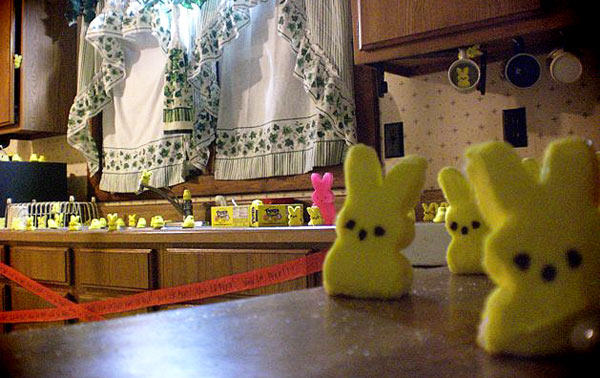 Imagine the look of surprise you'll see when someone in your home or office, on a mission to secure a cup of coffee, walks into a room entrenched with dozens — hundreds! — of Peeps, poised for an ambush!
The idea of staging a Peep De Resistance, shared with us by K&J Nation member Brit Neyrinck, was not in our 20 Unconventional Things You Can Make with Peeps post, but it should have been.
And if this is not already part of your Easter tradition, it should be.
This article gives you all the tips you need, including these great gems:
For the foot soldiers, traditional peeps seem to work the best as their body is built for stability and forward movement. Bunnies are surprisingly good marksmen, scouts, and general artillery soldiers.

* * *

Begin organizing your peeps in a way that will maximize their effectiveness in battle. Be sure to cover both high and low ground, as well as counter tops. Ceiling fans, cabinets, and the tops of appliances also work for other strategic locations.

* * *

Accessorizing your little resistors with random weaponry will maximize their chances of survival. Sniper bunnies work surprisingly well with straws, and the ground troops can hide behind fortifications made out of their former packaging. If you have action figures in the house, feel free to acquire their arsenal for the cause as well. You might also consider giving your peeps protective gear such as hats or shields.

* * *

Want to give your peeps a battle ready look? Use food coloring and food markers to give them angry faces or to make them look a bit war worn.
We talk a lot about the idea of Small Rebellions around here, but this takes it to a whole new level!
Viva la Peep!