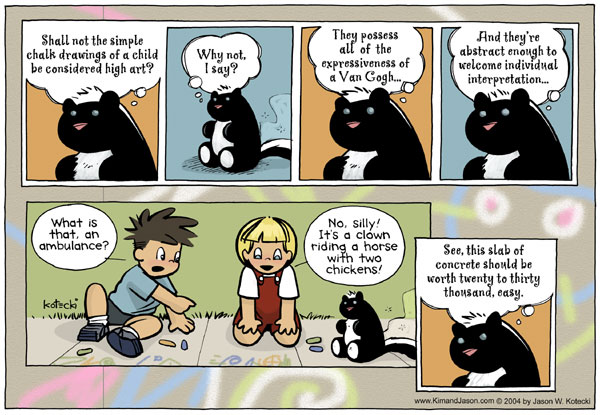 Apparently, chalk drawings of hearts and flowers is a "distracting and offensive blight" on a Denver community. The homeowner's association in three-year-old Emerson Cohen's neighborhood has temporarily banned children from drawing on sidewalks, saying "anything that offends, disturbs or interferes with the peaceful enjoyment is not allowed on shared spaces."
Yeah, because children's chalk drawings wreak all kinds of havoc on my peaceful enjoyment of pretty much anything.
Interestingly, a little research on the neighborhood, called Innovations and Courtyard Traditions at Stapleton, shows that it was specifically designed to "promote a wonderful, old-fashioned sense of community as families play and mingle."
Um, fail.
This, my friends, is another sad case of adults trying to ruin everything.
The group's attorney — yes, I said attorney — has made assurances that "the association is going down a path of 'do no harm' and is temporarily banning the chalk art until it is discussed in depth at a later meeting. It will then be up to the residents to decide if the art will be permanently banned."
Happily, in the mean time, Emerson's mom is allowing her to continue her chalk drawing habit as sort of a mini-protest. (Who knew that chalk drawings in a residential neighborhood would become a small rebellion?)
To me, it seems pretty obvious that the only distracting and offensive blight on this community are the Adultitis-ridden dopes who complained. Perhaps it is they who should be banned.