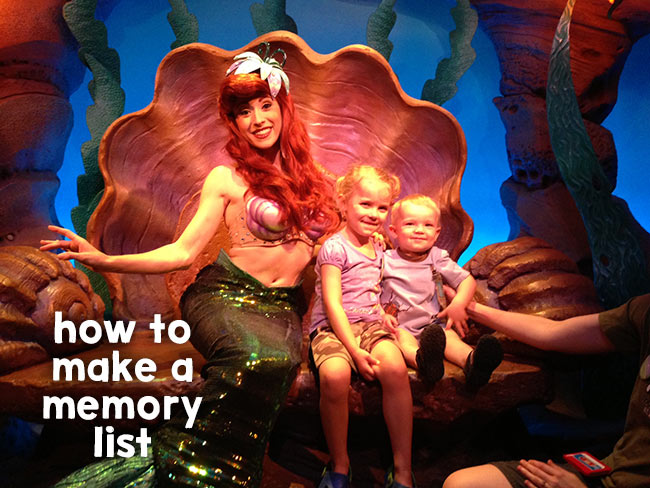 Kim and I are all about collecting experiences over stuff. The challenge with experiences is that they are fleeting. Which is why we normally try to make them tangible in some way, in order to relive them again and again.
Some common methods for "tangibilizing" memories are taking photos, shooting video, scrapbooking, and journaling. These are each excellent in their own way, but they also have downsides. With photos and video, you can easily spend more time looking through a camera's viewfinder than actually enjoying the experience firsthand. And others require a lot of post-event work that doesn't always get done, as is the case with video editing, scrapbooking and journaling.
I am not discounting any of the above methods for capturing experiences for future enjoyment. I have done and will continue to utilize each of them. I just want to call attention to an often unheard of but perhaps the easiest and most effective method.
Memory lists.
Memory lists are very simple and only require a few minutes to make. Using a notebook, jot down the "memory snapshots" that you experienced that day. Keep them simple; one sentence snippets will suffice. Don't worry if you're not a "writer." You probably are experienced at making to-do lists, and you don't worry about those winning Pulitzer prizes, right? Well, consider this an I-did list.
You can easily bust out a list of 10 things in less than five minutes. But here's the magic: when you review the list in five years, you'll be amazed at how those memories spring to life while your brain fills in the details you didn't even write down.
For example, I just stumbled across a list that I made right after a trip to Florida years ago. Here's a sampling of some of my notes from a visit Disney to Disney World:
Abu kissed Lucy during the Main Street parade.
Genie gave Dad a high five.
We told Cinderella's evil stepsisters to "Keep it movin'."
Lucy: "It looked like Beast was nice."
Treats: Rice Krispie Mickey with M&Ms, Red Velvet Mickey Cake Pop.
Lucy started bawling when Malificent came out during the live show at Cinderella's castle, requiring Dad to hold her.
Ben's first ride: It's a Small World.
Mommy and Lucy on the Astro Orbiter ride during the fireworks. Lucy: "It's so pretty!"
At night, the castle played "tricks" (light show). Lucy: "Good job, castle!" (with a thumbs up.)
Dole whips!!!
Notice how rough and seemingly mundane a few of them are. Some are simply milestones (Ben's first ride), a record of what we ate (Mickey cake pops), cute things Lucy said ("Good job, castle!"), or moments that were fleeting and could have easily been forgotten (Abu stopping to kiss Lucy).
We do have pictures and video of some of these moments, but let's face it, some of the best memories happen when the cameras are turned off (or aren't allowed). And upon our return from Florida, I didn't have the time or energy to make a scrapbook, edit a video, or write more in depth about our trip in a journal.
But I had fifteen minutes to write a list of 38 things that stood out about it.
Years later, it only took five minutes to read it and relive some wonderful memories that would have otherwise been forgotten.