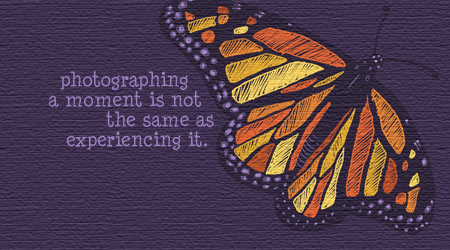 Are too many of your moments half-lived?
As a dad, I often find myself fighting the battle between enjoying a moment with Lucy and capturing it on film. One truth that I think slips by most dads and grandpas is this: As nice as it is to record memories to look back on later, photographing a moment is not the same as experiencing it.
While in upstate New York for a speaking engagement, we made some time to visit the Strong National Museum of Play in Rochester. Kim and I had been there before, but this was our first time with Lucy. She enjoyed it — as much as a one-year-old can enjoy anything, I suppose. The museum has a pretty neat butterfly exhibit that we wanted to show Lucy. Knowing how cool it would be, I was armed with a camera and video camera locked and loaded. I didn't want to miss any adorable moments for the "Lucy Archive."
As we ambled along the path and butterflies flitted about, I got some great footage. But a still, small voice whispered an observation in my ear: "It's not as gratifying seeing these butterflies through a viewfinder."
"Maybe not," I answered back, "But I have a job to do here and this is a sacrifice I have to make."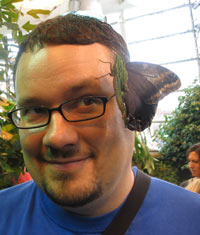 Moments later, a giant butterfly glided from behind a leafy green plant and came in for a landing.
Right. On. My. Head.
It didn't seem interested in budging. Kim snapped some photos, and fellow butterfly tourists laughed and pointed at the dude with the butterfly on his head. It was quite a moment.
I'm not sure it ever intended on moving, but eventually I asked the tour guide to help it find another place to sit, because his tiny butterfly feet were making my forehead itchy.
It didn't occur to me that perhaps this was a sign from the butterfly kingdom, or maybe from somewhere even higher up the ladder. The message was simple and to the point:
Notice me.
I wish I could say I got the message. I wish I could say I put the camera down and just marveled at the brilliant colors splashed across the fragile butterfly wings. I wish I had spent more time gazing on the face of my little girl, awash with a mix of curiosity and wonder. I wasn't completely oblivious to the experience, but I wasn't fully present, that's for sure. I didn't spend enough time just enjoying the moment.
Granted, I have some neat photos and cute video, but most of my memories associated with them will be about fumbling with the cameras trying to get the perfect shot and watching butterflies though a viewfinder. My experience wasn't as rich as it could have been.
It was a half-lived moment.
Too bad.
It's not like the butterflies didn't do their part to warn me.
P.S. Here's a video of highlights from our last trip to the museum, in the year 2 BL (Before Lucy):