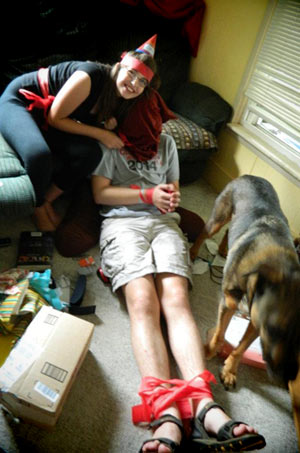 It's not a real birthday unless someone gets kidnapped by ninjas.
I met Heidi Montondo and her husband Tim in June at a conference in upstate New York. Ever since hearing about the dreaded condition known as Adultitis, they've gone on the offensive. Their most recent adventure was teaming up with their 13-year-old daughter Rachel and dressing up in black to transform into birthday ninjas. Armed with party hats, party blowers, and streamers, they kidnapped Joe, the 16-year-old birthday boy, and absconded to his favorite restaurant. After dinner it was off to bowling, followed by the new frozen yogurt spot.
Sure, you can celebrate a loved one's birthday by just going out to dinner.
But the extra step of adding ninjas and a good kidnapping turns it into a small rebellion that's really something special.